Tip: Activate javascript to be able to use all functions of our website
"Africa´s future is electric"
News from 2019-05-10 / KfW Development Bank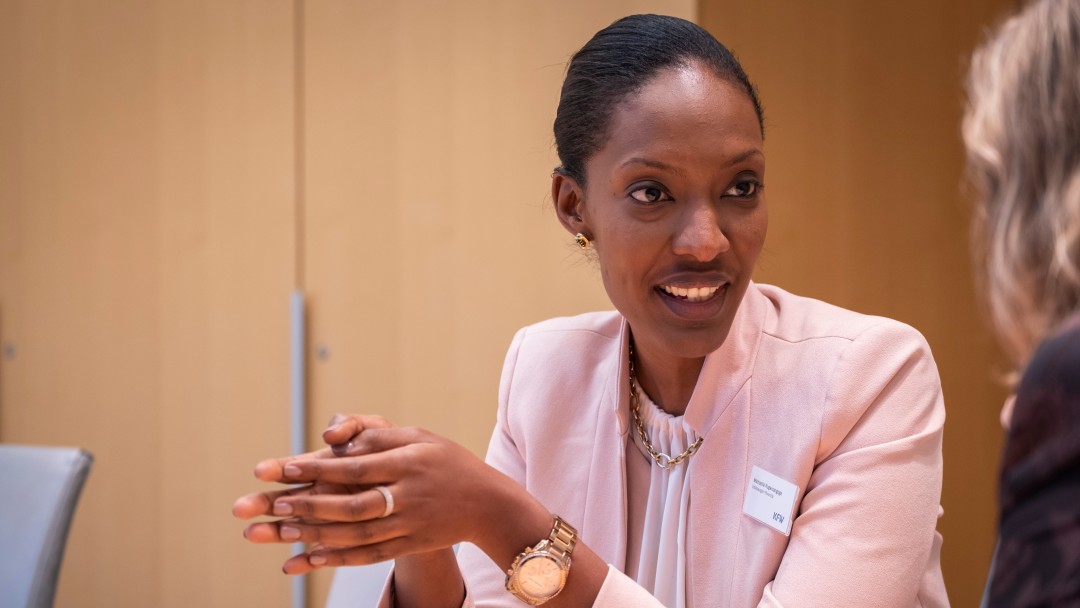 Michaella Rugwizangoga is the CEO of "VW Mobility Solutions", a newly opened branch of the car maker in Rwanda. She is a chemical engineer by training and received part of her academic education in Germany. She recently took part in an international congress at KfW in Frankfurt where she talked about her mobility vision for Africa.
VW opened a branch in Rwanda in 2018, the first one in Central Africa that will in the future also include an electric line. What was the motivation for this decision and what does it involve exactly?
Initially, we are bringing 50 electric vehicles to Rwanda in 2019, and we will start setting up an assembly line for electric vehicles in Kigali sometime in the near future. We do that because we feel that´s where the future goes.
That means the future mobility in Africa is electric for you?
It´s definitely electric, with electric cars, electric buses and app-based mobility solutions.
Regardless of the fact that energy is still lacking in many parts of the continent, that an estimated 600 million people do not have access to electricity in Sub-Sahara-Africa, yet?
It´s true. We still have a tremendous issue with energy generation in Africa but it should not be the case. We have a great potential particularly for renewable energy: we have the sun, water, we have wind. We can generate all the energy we need, it´s just a matter of time until this problem is solved. And as far as Rwanda and Kigali is concerned, electric mobility is not part of the problem but in fact part of the solution.
How could it be the solution?
In Rwanda more electricity is produced than we need right now and we are not able to stock it. So, producing e-vehicles is actually a channel to use that extra electricity, which would otherwise get lost. For this and other reasons, I think e-mobility is a very viable solution for Africa.
So you would skip several levels of mobility development we for instance in Europe went through?
I think Africa is the right place to leapfrog. There is no reason why we should organize mobility the way it was done elsewhere only to get where people are today. There are of course challenges, also depending on the African country we are talking about, but leapfrogging is the way to go. We need modern forms of mobility, driven by digitalization.
You don´t see higher hurdles for electric mobility in Africa than anywhere else in the world?
Exactly, I don´t see any higher hurdles. Also because Africa´s population is young; it´s hungry for new, technologically sophisticated solutions. And the population is growing. So, there is a need, there is the attitude, and there is a market.
Is that scenario also feasible for rural areas – or just for urban districts?
Modern mobility solutions will start out in the cities; as VW Rwanda we are looking at urban spaces first, beginning in Kigali, then in a few years at secondary cities. In rural areas you actually need a broader combination of solutions. Maybe a person coming from the village will get on a motocycle to the next road, where they might access a car to the even bigger road and then there they might catch a bus. The sequence of mobility modes is most likely more extensive than in cities. Plus, autonomous vehicles are probably better suited for rural areas because people there don´t always know how to drive. Digitalization plays a central role in all of this this.
Modern mobility for Africa – a VW branch in Rwanda
Michaella Rugwizangoga is leading VW in Rwanda where the company opened a new branch in May 2018. It is more than a sheer production line because VW wants to develop comprehensive mobility solutions for the future there, including electro-mobility and training skills. VW´s strategy is based on the perception that not everyone in Africa can afford to buy a new car, but very well individual trips. Therefore, most of the cars VW is assembling in Rwanda, will be used for car sharing and ride hailing services, presently supported and operated by two apps. With a four-pillar-approach – assembly, sales, academy, mobility – VW wants to take mobility in Africa to the next level and become market leader on the continent.
So, you are definitely not excluding to service mobility in rural areas?
No, why should we? Changes are possible there as well. It needs more time and different approaches maybe, but there is definitely a market.
What exactly is VW doing in Rwanda right now?
We follow a four-pillar approach. We have a vehicle assembly line that will eventually produce the Polo, the Passat and the Teramont, which is an SUV, right in the heart of Africa. Secondly, we have a dealership on the sales side that is handled by a local partner. Thirdly, we run a training academy where we train technicians. And fourth, we offer mobility service.
Why did you pick these four elements?
The assembly line is clear. We see a market in Africa and have a capacity of 5.000 vehicles per year, which is a fairly good amount. The sales are also quite obvious. But we felt in Africa we have to do more than just offering cars you can buy from the shelves. Why? Only few people can afford to buy new cars, not the masses. But they can afford a vehicle for 30 minutes, or maybe an hour or two. Therefore, we offer different kinds of mobility services. People can rent a vehicle for shorter time periods; they can ride it themselves or book a driver, they can drive individually or share. All of this is possible. We have already developed two apps, supporting those services, mainly for corporate clients. And we will continue to expand in that area.
And why did you open an academy?
We need the know-how and the technicians ourselves and we want to upscale the skills in the market in general. At the moment there is room for 20 people in the classes but we are looking at online versions and at partnering with local institutions, technical and vocational schools.
You are CEO in a rather male industry. Did you as a woman hesitate for a moment when you were offered the top job of VW in Rwanda?
I didn´t, I was grateful and glad. This to me is a great opportunity that I wanted to jump on. And, by the way, it´s not so unusual for Rwanda where there are a lot of young women in leadership positions.
The interview was conducted by Friederike Bauer