Tip: Activate javascript to be able to use all functions of our website
Award for private capital mobilisation in Africa
News from 2019-03-22 / KfW Development Bank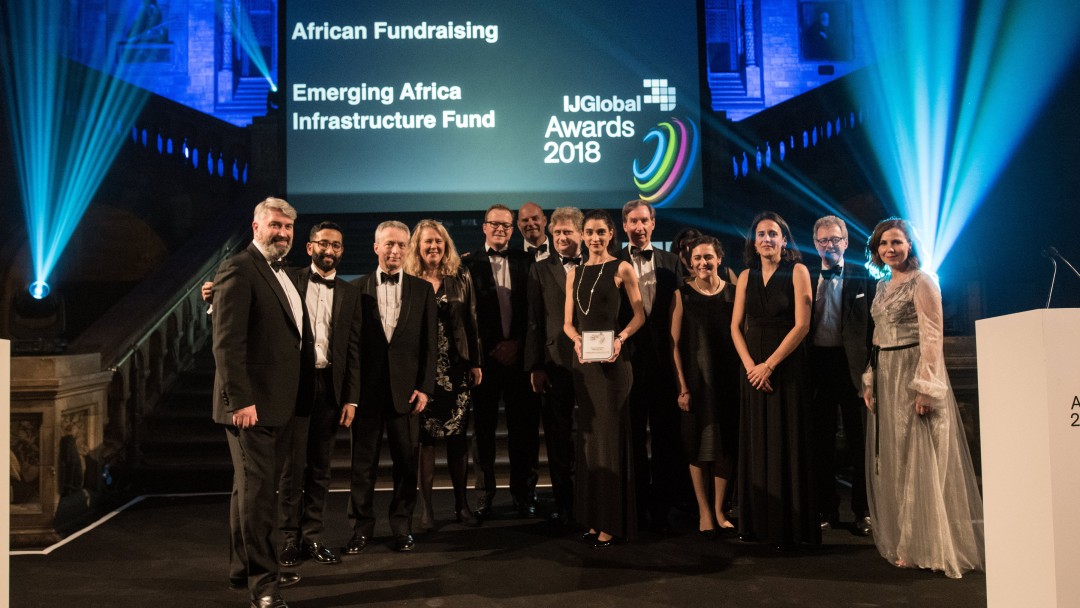 Presentation of the IJGlobal Awards 2018 in London's Natural History Museum. KfW was represented by Babette Stein von Kamienski (fourth from left).
The current financing round for the Emerging Africa Infrastructure Fund (EAIF) – once again with the participation of KfW Development Bank – has won the IJGlobal African Fundraising Deal Of The Year Award. The award was presented on 21 March 2019 in London.
Mobilising capital – especially also from private investors – for the urgently needed expansion of infrastructure in African countries is and remains one of the greatest challenges for development policy. The Emerging Africa Infrastructure Fund (EAIF) is setting standards here with the involvement of KfW Development Bank. The current financing round, with a total volume of more than USD 385 million, was therefore awarded this year's "IJGlobal African Fundraising Deal of the Year Award" by the Project Finance & Infrastructure Journal.
KfW Development Bank has been supporting EAIF on behalf of the German Federal Ministry for Economic Cooperation and Development (BMZ) since 2005 and is the largest lender of debt capital. KfW is also participating in the current increase with two tranches of EUR 75 million plus USD 50 million, in addition to other development financiers such as the Dutch FMO and the African Development Bank. The Allianz Group's involvement as the first commercial anchor investor is groundbreaking. For the first time ever, Allianz has committed itself to long-term loan commitments in the triple-digit million range. This shows that even seemingly difficult markets can be attractive for large private investments if suitable conditions are created with innovative instruments.
EAIF has already financed over 70 projects in 22 countries in sub-Saharan Africa, including in the areas of energy, drinking water, telecommunications, waste management and transport. The loan portfolio currently amounts to USD 750 million. Current examples of investments made possible with the support of EAIF are the largest solar power plant in West Africa, Akuo Kita in Mali, or the expansion of drinking water treatment in the Rwandan capital Kigali as a public-private partnership. Head of division Babette Stein von Kamienski, who represented KfW Development Bank at the awards ceremony in London's Natural History Museum on 21 March, said: "The award-winning EAIF financing shows that private capital can be used meaningfully towards the development of Africa and the achievement of the SDGs. We are proud to be playing a role because the potential is far from exhausted."
The fresh capital will be used to further enlarge EAIF's portfolio over the next 5 years. The distinction of the IJGlobal Award and the attention that comes with it are an incentive for all participants.