Tip: Activate javascript to be able to use all functions of our website
Ethiopia – dawn of a new age
News from 2019-01-30 / KfW Development Bank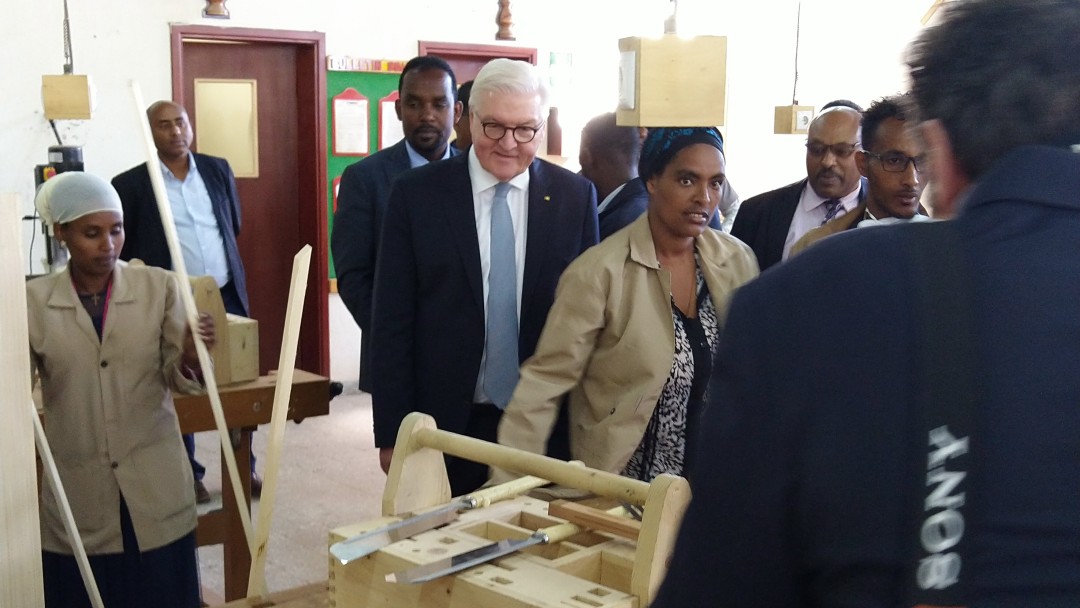 Together with an economic delegation, Frank-Walter Steinmeier spent three days in Ethiopia at the end of January. The German President held political talks with President Sahle-Work Zewde and Prime Minister Abiy Ahmed in the capital Addis Ababa. The agenda also included a visit to the TVET Institute, a training centre for vocational school teachers funded by KfW Development Bank.
Abiy Ahmed was elected Prime Minister of the country in April 2018 and has already initiated extensive reforms. He has released political prisoners, sought talks with opposition members, offered peace to the country's long-standing enemy Eritrea and announced free and fair elections for 2020.
Key role for development: education
The challenges facing this emerging country are still huge: poverty and unemployment are high, and ethnic conflicts frequently cause unrest. But since 2005, Ethiopia's economy has seen annual growth rates of between eight and twelve per cent. Many companies need qualified specialists but are unable to find any. In the Ethiopian government's National Development Plan, the education sector plays a key role in advancing the country's economic development and creating opportunities for its growing population.
Considerable success has already been achieved – with support in part from German development cooperation. Over the past 15 years, the number of public vocational training facilities has risen from 16 to over 800, and the number of students at vocational schools from 3,400 to over 350,000. Hundreds of companies are now part of a dual, more practically oriented training system – with Germany as the role model. Demographic development and sustained economic momentum make further expansion necessary, both in quantitative and qualitative terms. There is currently an acute shortage of qualified teachers. According to the Ethiopian government's estimates, the number of qualified teachers (currently around 23,000) would have to be doubled in the next few years. In view of Ethiopia's ambitious industrialisation and employment programmes, vocational education and training is a very high political priority. During the visit, the Ethiopian partners praised the particularly close and successful cooperation with Germany in this area. Peter Maats, KfW's project manager for education projects in the Addis office, adds: "The partners are very interested in Germany's experience with the dual system. The TVET Institute is the "heart" of Germany's activities in vocational training. Standards are set here that are applied throughout the country."
To get an impression of the situation in vocational education and training, the German President's delegation visited the TVET Institute (TI), which received EUR 4 million in funding from KfW Development Bank. The TI, founded in 2010, trains vocational school teachers and practical trainers from companies. 3,000 students from various disciplines are taught by nearly 70 instructors. To date, KfW has financed equipment for workshops for construction and ICT professions and teacher training, among other things; in future, mechatronics, electronics and textile/leather processing will be added. It is important that the training has practical relevance – this is ensured by involving industry and the private sector in the development of professional profiles, curricula and school equipment.
President Steinmeier said in his speech on his arrival in Addis Ababa: "I am convinced that we, Europeans and Africans, must work together to improve prospects, especially for young people in your countries. One key to achieving this is sustainable economic development: you need investment, and young people in your country need a good education and training. We are glad to support your country with both."