Tip: Activate javascript to be able to use all functions of our website
New cooperation between KfW Development Bank and the European Union for climate-friendly and sustainable urban development in China
News from 2018-12-03 / KfW Development Bank
Contract signed in Beijing in the presence of EU Commissioner Neven Mimica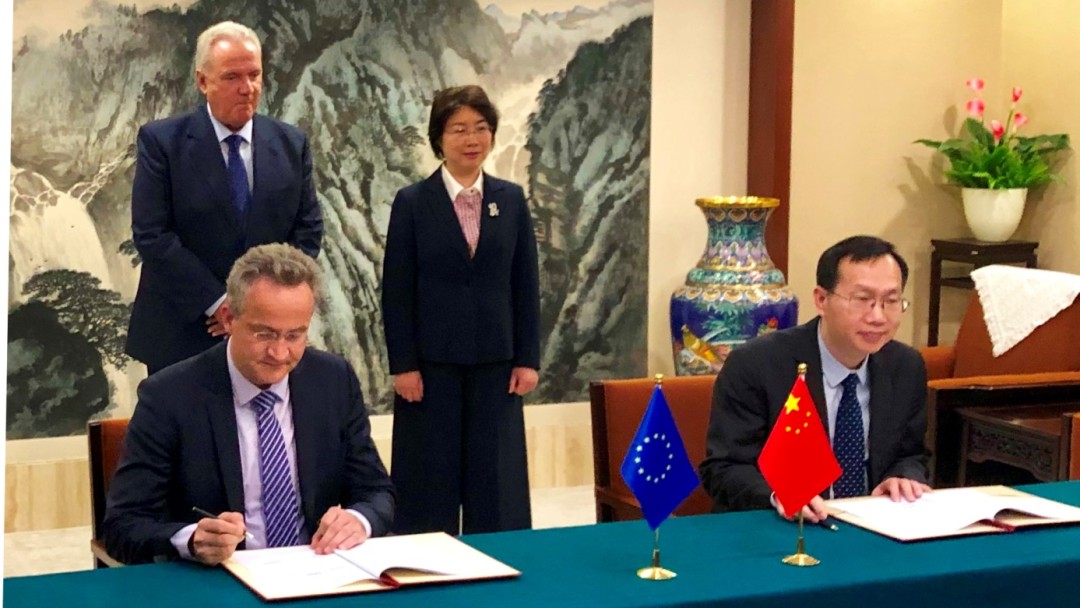 Standing, from the left: Neven Mimica, EU Commissioner for International Cooperation and Development Zou Jiayi, Deputy Finance Minister for China Sitting, from left: Dr Wolfram Erhardt, KfW Director Zhang Zhengwei, Deputy General Director at the Chinese Ministry of Finance.
Using EU funds, KfW has set up the China Green Cities Development Fund (CGCDF), which will support Chinese cities with environment- and climate-friendly urban development and thus contribute to the implementation of the Paris Climate Agreement. During a visit to Beijing by the EU Commissioner for International Cooperation and Development, Neven Mimica, the necessary agreements with the Chinese Ministry of Finance were signed at an exclusive kick-off event. This development marks a milestone in the cooperation between KfW and the EU in large emerging economies.
Pollution and high levels of greenhouse gas emissions are two core problems in Chinese cities and, as such, for the global climate as a whole. KfW Development Bank is supporting China on behalf of the German Federal Government by providing FC promotional loans for investments in environment and climate protection. The use of cutting-edge technology to ensure compliance with strict international sustainability standards is an essential factor in this process. So far, many Chinese cities and provinces have found it difficult to apply these demanding standards at a local level. This is where the CGCDF comes in.
The CGCDF is a study fund of around EUR 5 million and is managed by KfW on behalf of the EU. The fund is designed to support the financing of studies, consultancy projects, conferences, etc., in an effort to support Chinese partners with the preparation and implementation of aspects related to the environment and climate in infrastructure projects. The investments supported using CGCDF funds will then be financed by FC promotional loans. The plan is to facilitate environment and climate protection investments with a total volume of a good EUR 1 billion over the next four years.
During his visit to China, the EU Commissioner for International Cooperation and Development, Neven Mimica, joined China's Deputy Finance Minister Zou Jiayi at the ceremony for the signing of the memorandum of understanding regarding the CGCDF between KfW and the Chinese Ministry of Finance.
The event once again demonstrated the importance given to the CGCDF by the EU Commission. At the EU-China Development Cooperation Round Table, the EU's Development Commissioner praised the fund, specifically naming KfW. He described it as the first concrete step in the EU's reinvigorated development cooperation with China.
The financing for the CGCDF originates from the EU's Asia Investment Facility (AIF), which issues blend funds for investments in southern, northern and south-eastern Asia.