Tip: Activate javascript to be able to use all functions of our website
Thinking ahead about marine conservation
News from 2018-09-26 / KfW Development Bank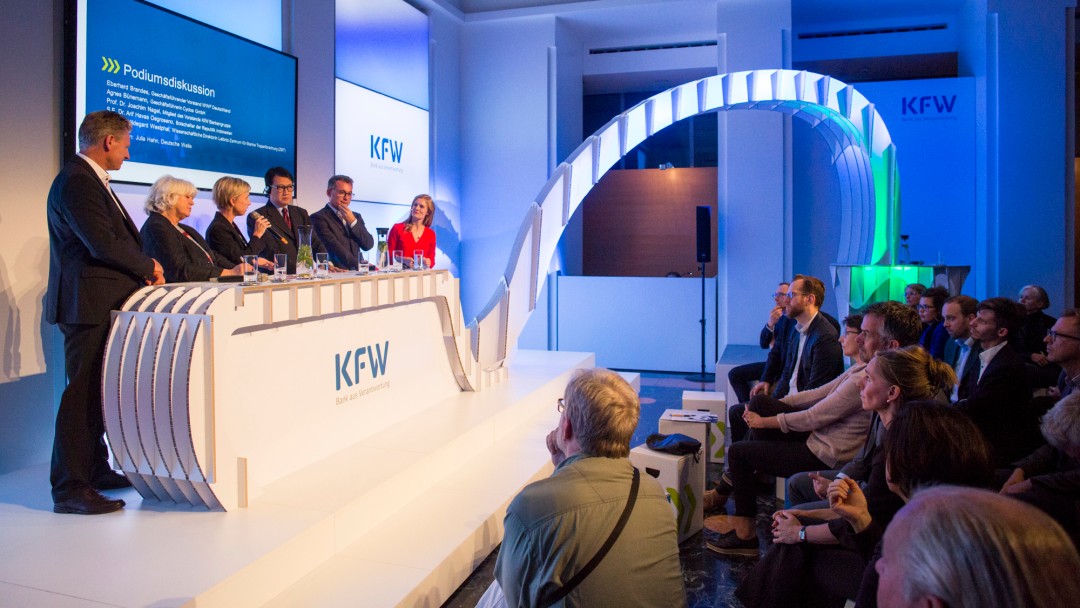 KfW promotes forward thinkers all over the world — and "thinking ahead" is also the motto of the new event series for the political arena intended to present a platform to discuss and advance important national and international issues at KfW's branch in Berlin. The kickoff event on 25 September was dedicated to a challenge of global proportions: marine conservation. Around 120 visitors from the German Federal Parliament, ministries, thinks tanks und NGOs had the opportunity to continue discussions after the event in an open atmosphere during a vegetarian buffet.
The oceans are of fundamental importance for the climate and biodiversity, and are a food resource for around two billion people. But ocean conditions are deteriorating dramatically. Overfishing, coral bleaching and clearing of mangroves are just a few key terms. One particularly striking issue is the rapidly accelerating rate of pollution with solid waste: today, it is estimated that 100 million tonnes of plastic waste are already in the oceans, and 8–10 million tonnes are added each year. Plastic places marine wildlife at risk and can also affect humans as it returns through the food chain. "We have all long underestimated the risks to the oceans. But that is changing now, also in the way we conduct our promotional activities," said Professor Joachim Nagel, member of the Executive Board of KfW, during his welcome address. Dr Tania Rödiger-Vorwerk from the German Federal Ministry for Economic Cooperation and Development (BMZ) agreed with him. As the keynote speaker for the evening, she also highlighted the fact that the global task of marine conservation can only be tackled with joint international efforts from policy-makers and companies, scientists and civil society. She announced that the Federal Ministry for Economic Cooperation and Development will increase financing for the Blue Action Fund to EUR 50 million. This trust, founded by KfW and the Federal Ministry for Economic Cooperation and Development in 2016, promotes the expansion and improvement of coastal and marine conservation areas in developing countries, sustainable fishery, and soft tourism for environmentally-friendly economic development.
A cross-section of participants from active parties then talked about this issue in a panel discussion. Eberhard Brandes, member of the Management Board at WWF Germany, described personal impressions from his journeys into WWF project regions heavily affected by plastic waste and called for swift action. However, he noted that legal provisions must also be discussed in order to achieve this. Agnes Bünemann from the consultancy firm cyclos pointed out that many countries first need to ensure nationwide waste collection to prevent plastic from making its way into the environment unchecked. But she emphasised that these measures are associated with costs. Professor Hildegard Westphal, Director of the Leibniz Centre for Tropical Marine Research in Bremen, picked up on this train of thought and mentioned that there are also costs associated with systems that lack proper waste management — only these costs mainly affect the poorest and most vulnerable segments of the population. Against this background, one particularly powerful discussion point came from Indonesian Ambassador Dr Havas Oegroseno: the island state of Indonesia is particularly dependent on the ocean; at the same time, above-average amounts of plastic waste make their way into the environment from countries in the region of Southeast Asia. Indonesia has recognised this and is working to counteract this with an action plan.
Numerous questions from the audience showed how much active interest there is in this topic. The discussion repeatedly demonstrated that commitment and examples of possible solutions already exist — the task is improving how these approaches are networked together. And this was precisely the conclusion that Professor Nagel drew, explaining that this was the ultimate goal and purpose of the "Thinking ahead" event.
Further information: