Tip: Activate javascript to be able to use all functions of our website
Public-private cooperation for closing the insurance gap
News from 2018-09-06 / KfW Development Bank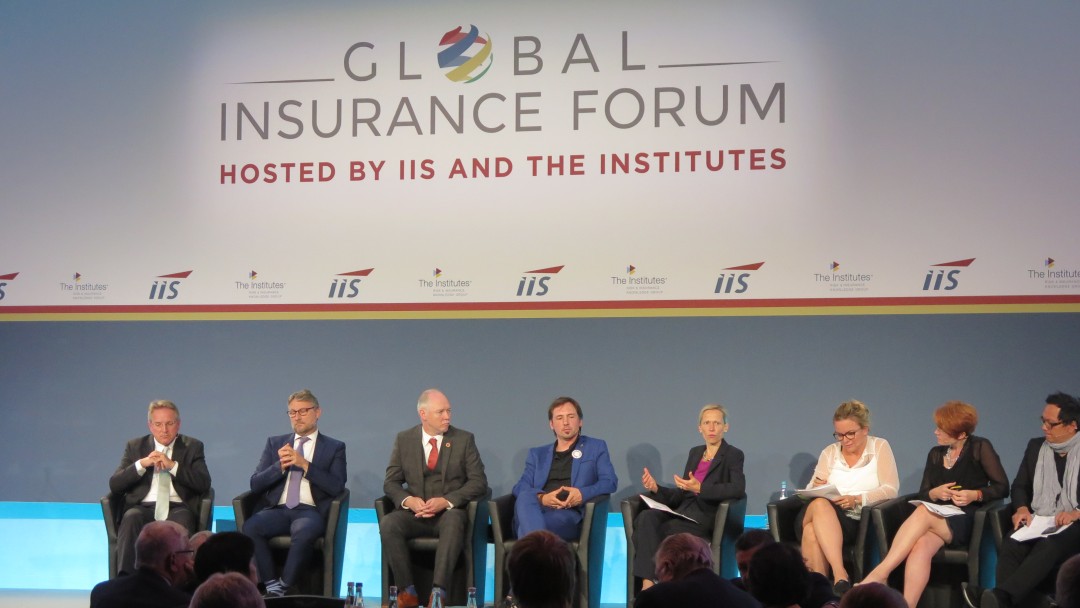 The IIS brought together actors and decision-makers from the public and private sectors as well as civil society.
Climate change threatens global well-being as it increases the frequency and intensity of extreme weather events worldwide. Poor and vulnerable people in developing countries are disproportionally affected, as they have fewer capacities to protect themselves and to absorb losses. The impacts of extreme weather events force some 26 million people into poverty every year. To make matters worse, protection and risk mitigation via insurance cover is available only on a limited scale in low-income countries. Thus, innovative solutions to deal with climate and disasters risks are needed: Risk financing and insurance instruments contribute to strengthening the resilience of vulnerable populations and are vital to complement humanitarian aid.
The third day of the annual Global Insurance Forum, recently hosted by the International Insurance Society in collaboration with the InsuResilience Global Partnership (IGP) and the Insurance Development Forum (IDF), was devoted to the topic "Insurance for Global Development & Resilience". More than 500 international experts from the insurance industry, science and politics discussed how developing and emerging countries can be protected against climate risks with innovative insurance solutions, and how their ability to adapt to climate change can be improved.
Collaboration between public, private and civil society actors is key for providing poor and vulnerable people with insurance coverage. During the Global Insurance Forum, KfW therefore organised a workshop on "Public-Private Partnerships – Action on climate risk insurance". The workshop presented concrete project examples, and demonstrated how the engagement of the private sector and civil society can be catalysed by public financing – as in the case of the InsuResilience Investment Fund (IIF) and the InsuResilience Solutions Fund (ISF).
Both the ISF and the IIF have been established by KfW, on behalf of the German Federal Ministry for Economic Cooperation and Development (BMZ). The IIF provides financing and advice to insurers and companies in the insurance value chain in developing countries, combining capital provided by public and private investors. Sometimes, however, innovative new ideas need help to evolve into a marketable product. This is where the ISF steps in: Its objective is to provide funding and expertise to support the development of climate risk insurance solutions and bring them to the implementation stage.
The workshop demonstrated that these approaches make a practical difference. Five Colombian cities particularly affected by climate change may soon be able to strengthen their disaster risk management – the NGO Global Communities announced a partnership to this aim with reinsurer Hannover Re, law firm DLA Piper, and broker Willis Towers Watson. Nature itself can also benefit: The Mesoamerican Reef Fund (MAR Fund), an organisation looking after the largest coral reef in the Atlantic Ocean, announced the establishment of a partnership with Willis Towers Watson to jointly develop an innovative insurance solution to protect and restore coral reefs. Both projects will apply for co-financing of product development costs from the ISF. They are both showcases for how a diverse set of partners can bring their very different expertise together and join their efforts.
Civil society, private companies, and public institutions, all have an important role to play in reaching the ultimate goal of the InsuResilience Global Partnership: to offer insurance against climate risks to an additional 400 million poor and vulnerable people in developing countries by 2020.