Tip: Activate javascript to be able to use all functions of our website
KfW launches first project with the Green Climate Fund in Bangladesh
News from 2018-03-12 / KfW Development Bank
Improved protection of urban infrastructure from the consequences of climate change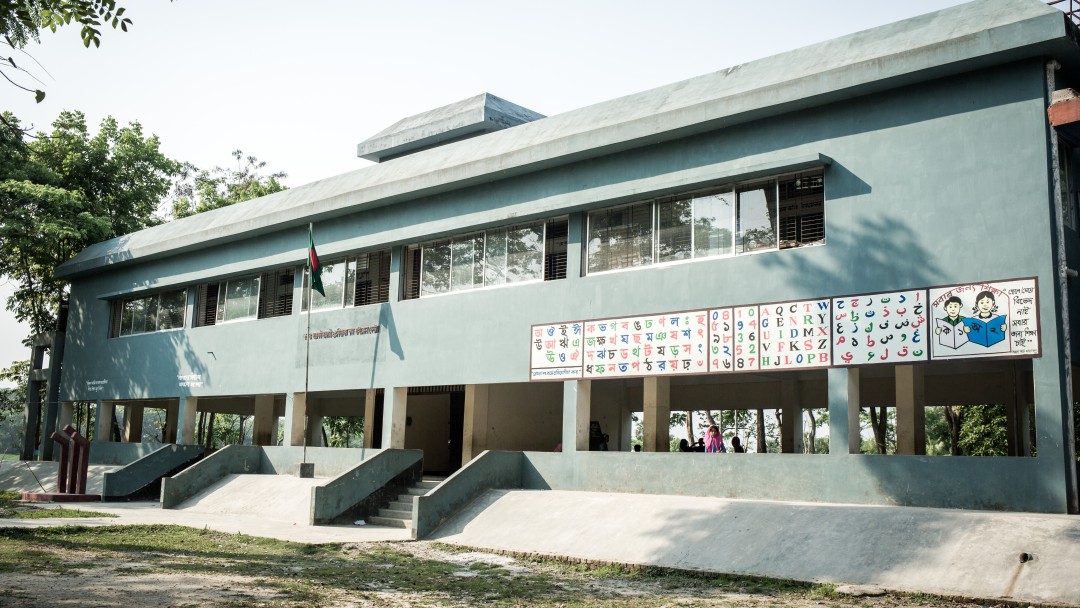 More than a place of refuge: Protective structures to protect against the effects of climate change are schools, community centres and at the same time shelters for many people in Bangladesh.
Ready for take-off: the financing agreement for KfW's first project with the Green Climate Fund (GCF) in Bangladesh was signed on by the Secretary of Economic Relations Division (ERD), Ministry of Finance, of Bangladesh and Roland Siller, Member of the Management Committee, KfW Development Bank, Europe and Asia. This is the starting point for the implementation of jointly funded climate adaptation measures in Bangladesh.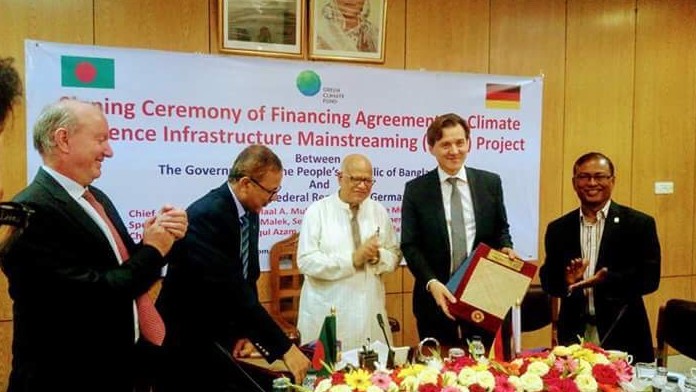 The financing agreement for KfW's first project with the Green Climate Fund (GCF) in Bangladesh was signed in Dhaka.
Through a grant of USD 40 million, the GCF is making a significant financial contribution via KfW to this project, which aims to strengthen the climate resilience of infrastructure in Bangladesh on a long-term and sustainable basis. In addition, the Federal Ministry for Economic Cooperation and Development (BMZ) is providing co-financing of USD 15 million via KfW. Bangladesh is providing an own contribution of USD 25 million to the project.
Bangladesh is one of the countries most affected by climate change and at the same time one of Asia's poorest countries. Two-thirds of the country's surface area is less than three metres above sea level. A large share of the 160 million inhabitants is acutely threatened by rising sea levels. Floods and thunderstorms have already caused and will continue to cause major problems with increasing intensity.
This joint "CRIM project" (Climate Resilient Infrastructure Mainstreaming) will establish a new national center of expertise in Bangladesh to ensure that the climate change induced requirements for planning and implementing public infrastructure investments are systematically and properly taken into account. At the same time, urban protection facilities will also be financed, so that the center of excellence's lessons learnt can be put into practice and new experiences can be passed back to the center. By means of building more and better climate-resilient infrastructure the country's vulnerability regarding climate change will be sustainably reduced.
KfW was one of the first five institutions to be accredited by the GCF in 2015 for the implementation of grant financing. At the UN Climate Change Conference in November of last year, KfW and GCF signed the financing agreement underpinning the CRIM project. The GCF as such is largely co-financed by BMZ funds. Germany is one of the Fund's most important donors, having contributed EUR 750 million so far.