Tip: Activate javascript to be able to use all functions of our website
KfW continues commitment for Palestinian refugees
News from 2018-01-19 / KfW Development Bank
New homes and schools for Gaza and Lebanon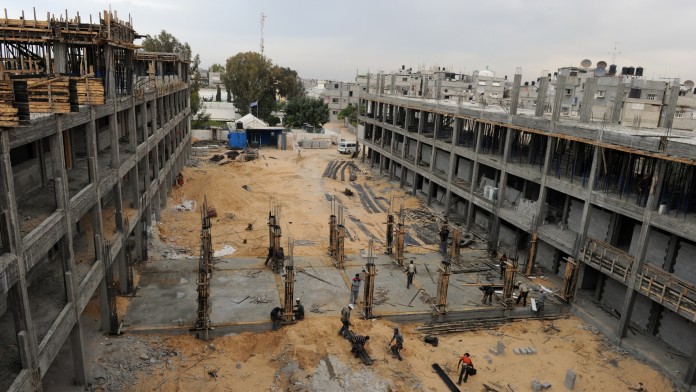 The UN Relief and Works Agency for Palestine Refugees in the Near East (UNRWA) is supporting construction of new schools in the Gaza Strip.
On behalf of the German Federal Government, KfW Development Bank is continuing its commitment to helping Palestinian refugees in the Gaza Strip and Lebanon. A total of EUR 36.15 million has now been committed to the United Nations Relief and Works Agency for Palestine Refugees in the Near East (UNRWA) for the reconstruction of homes and schools as well as employment programmes.
After the armed conflicts in the summer of 2014, KfW is supporting reconstruction plans in the Gaza Strip. With the newly committed funds in the amount of EUR 18.15 million for the region, around 540 families whose homes were completely destroyed will receive new housing. An additional EUR 5 million will be used to build new schools and equip them with furniture and teaching materials. This will facilitate conditions appropriate for teaching around 6,000 boys and girls. UNRWA runs nearly 60 schools in the Gaza Strip. About 262,000 young people receive education there.
Employment for 4,000 Palestinian refugees in the construction industry
Palestinian refugees, many of whom only fled from Syria in the last few years, also live in poverty and without jobs in Lebanon. Around 4,000 of them will now be given the opportunity to work through a cash for work employment programme in the construction industry. KfW is supporting the programme and, with EUR 10 million, will finance labour-intensive renovation of housing, schools, workshops and health centres in the refugee camps, as well as UNRWA administrative buildings. Furthermore, an additional EUR 3 million has been committed to improve refugees' access to health care facilities and schools. The Director of UNRWA in Lebanon, Claudio Cordone, expressed his thanks for the German support.
UNRWA was founded in 1949 by the UN General Assembly to support Palestinian refugees who were forced to flee during the Arab-Israeli conflict in 1948. The UNRWA's mandate currently covers approximately five million Palestinian refugees in Jordan, Lebanon, Syria, Gaza and the West Bank.