Tip: Activate javascript to be able to use all functions of our website
KfW honours project to prevent infectious diseases
News from 2017-10-18 / KfW Development Bank
General Manager Joachim Nagel presents award to young team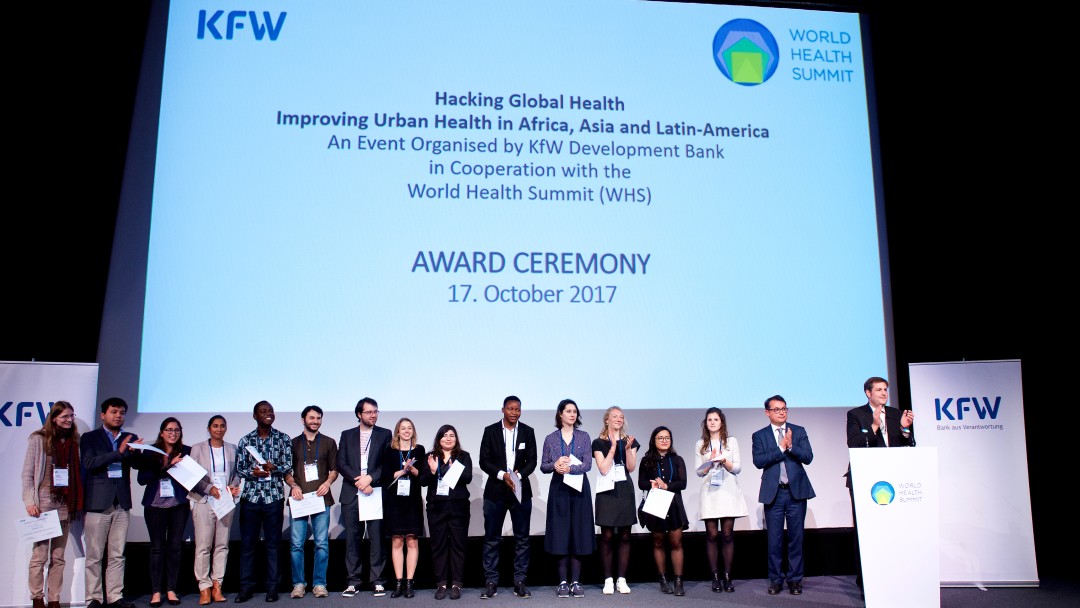 Three projects were honoured at the "hackathon" workshop in Berlin, a word coined from "hack" and "marathon": these projects came up with innovative ideas for how to improve urban health in developing countries.
KfW Development Bank organised a two-day workshop alongside the World Health Summit in Berlin to identify innovative solutions for better urban health. Nearly 40 people from around the world, mostly young men and women, took part in the very first hackathon of its kind, forming eight teams to develop project proposals. At the end of the event, first place was awarded to a digital platform that tracks the occurrence of diseases transmitted by mosquitos, fleas or rats in residential districts and communities. These so-called "vectors" can spread the germs that cause disease.
In a special ceremony, Prof. Dr Joachim Nagel, General Manager of KfW, honoured the prize-winners. He praised participants for their achievements and innovative spirit, highlighting that they had achieved great things in a short period of time. Professor Nagel said that we need to continuously seek new, digital solutions in view of the rapid pace of urbanisation and the associated urban health problems. "If you dream of moving a mountain tomorrow," he said, quoting an African saying, "you have to start with small stones today." The hackathon, organised by KfW Development Bank's Health Competence Centre, proved to be the perfect opportunity to collect some of these small stones.
A term coined from "hack" and "marathon"
The word "hackathon" combines "hack" and "marathon" and describes the intensive working methods required. A hackathon is considered a special form of creative cooperation. Over the course of two days, the participants, most of whom did not know each other in advance, divided up into eight project groups in Berlin to explore new ideas for how to improve the health of people living in cities in developing countries. They presented their proposals at the end in a small competition. The topics ranged from digital storytelling to emergency call centres for developing countries all the way to preventing resistance to antibiotics.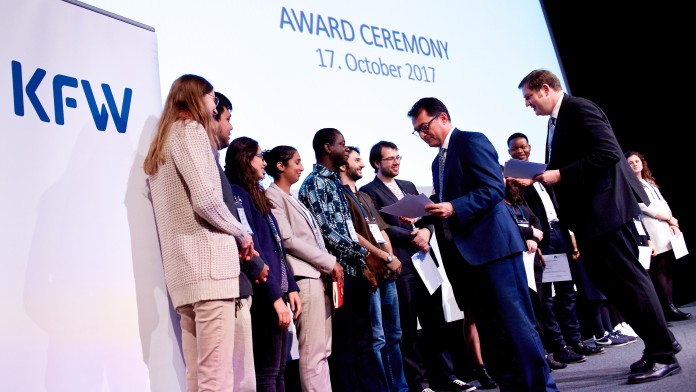 KfW General Manager Joachim Nagel awarded the prize to the winning team.
A jury that included KfW team leader Amelie d´Souza, eHealth expert Nadi Kaonga and Roland Göhde, Chairman of the Board at the German Healthcare Partnership, assessed the results and chose the three best projects. A project called "Vectorfight" came in first place followed by the runner-up, another digital platform. It is designed to help link owners of fallow land with prospective "urban farmers" with the aim of encouraging urban agriculture and the production of healthy food. Third place was awarded to an architecture project intended to reduce urban noise by installing noise protection boxes around bus stops to make the streets quieter for stressed city dwellers.
Winners showcased their projects at the World Health Summit
The winners were asked to present their proposal again at the World Health Summit to attract greater attention for their idea. In addition, they received a one-year membership in the German Healthcare Partnership, a network made up of companies working in the healthcare sector and public and civil society actors with the goal of improving global health. At the ceremony to honour the three projects, Joachim Nagel said that the international community needs innovations like these. To tackle the current challenges in the world, "we must go beyond the current repertoire," said the KfW General Manager.
The winning team consisting of medical experts, bioengineers, computer experts and business people from Columbia, Ghana, Iran and Germany, was excited to win first prize and praised the hackathon format. "We had a great combination of different skills that we were able to put to good use. All of us were solution-oriented and no one tried to dominate the rest of the group," is how the team explained its success. They now hope to find donors to make their project a reality.