Tip: Activate javascript to be able to use all functions of our website
Progress in the fight against hunger
News from 2017-10-17 / KfW Development Bank, KfW Development Bank
KfW and Welthungerhilfe present 2017 Global Hunger Index in Berlin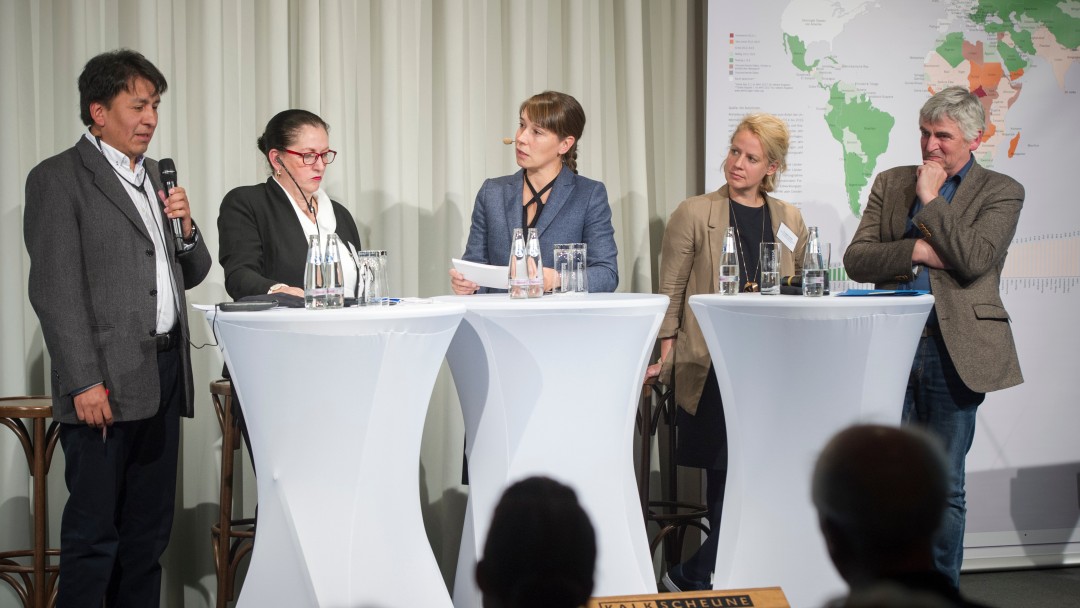 Participants engage in a discussion about the various dimensions of hunger.
Hunger today is less widespread than in the year 2000, but we are still a long way from achieving a world without hunger. This also summarises the findings of this year's Global Hunger Index (GHI) which KfW presented in Berlin for the fifth time in a row together with Welthungerhilfe. This year's report is dedicated to the correlation between inequality and hunger. Attended by an audience of around 250, experts from the realms of politics, science and civil society addressed this issue and its various manifestations at an evening event held in the Berlin venue Kalkscheune.
According to the GHI, global hunger levels have fallen by 27% overall since 2000. Of the 199 countries analysed, 43 were found to have lower figures than before; hunger has been significantly reduced in these countries in the meantime. This applies in particular to Eastern Europe, Latin America and parts of Asia. The greatest success seen during this period was in the countries of Cambodia, Rwanda and Myanmar.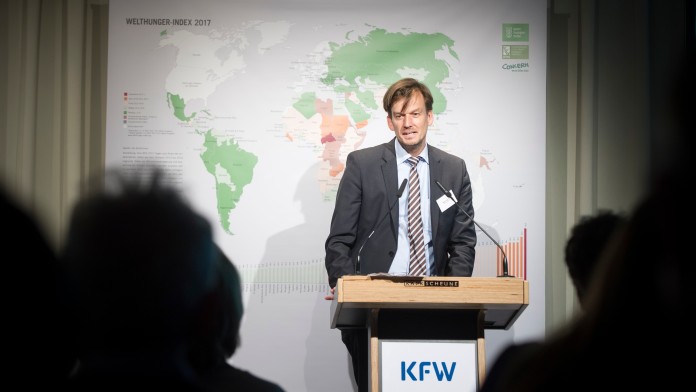 Marc Engelhardt, KfW Head of Division
The situation in Africa and southern Asia is less encouraging; these regions are home to the majority of people still suffering from hunger around the world. The Index even describes the situation as "extremely alarming" in the Central African Republic, and "alarming" in Chad, Madagascar, Zambia, Sierra Leone, Yemen und Liberia. This is mainly due to war, poor governance and natural disasters. "These are the three main factors for hunger," added Klaus von Grebmer from the International Food Policy Research Institute, one of the researchers involved in calculating the Index.
No reason to sit back and relax
"The progress made in recent years is good news, but not a reason to put up our feet," said KfW Head of Division Marc Engelhardt in reference to the findings of the GHI. "Hunger could be prevented, our planet could feed everyone, we have enough land, water and plants." KfW will continue to work in the fight against hunger and malnutrition. With 200 ongoing projects, it is currently reaching an estimated 75 million people in rural areas according to Mr Engelhardt.
The President of the Welthungerhilfe organisation, Bärbel Dieckmann, said, "Women, indigenous people and people living in rural areas are more likely to suffer from inequality and are therefore hit harder by hunger." "Inequality and hunger are inextricably linked. Hunger is often the result of a power imbalance in the food system." She thus made an appeal for more investment in agriculture. "People who are trapped by inequality go where they think they have better opportunities." This is why fighting hunger also always helps combat the root causes of migration.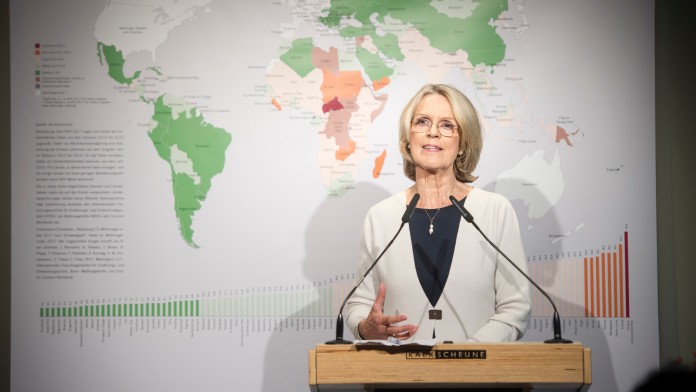 Bärbel Dieckmann, President of Welthungerhilfe.
Hunger rarely self-inflicted
In the discussion that followed, various dimensions of hunger were addressed in more detail. The panellists all agreed that hunger is generally not self-inflicted and is almost always caused by various forms of inequality.
In the case of Pakistan, where the GHI rates the situation as "serious", Masuma Zaidi from the KfW Office in Islamabad made clear that besides the economic aspects, political, environmental, social and cultural inequalities are at play. They span from heavy population growth and floods as a result of climate change to the eating habits in families where women traditionally take a back seat.
To actually "not leave anyone behind" as stipulated in the 2030 Agenda, additional efforts are needed, consistent with the conclusion of the evening. "Hunger is declining, but not fast enough," said Mr von Grebmer.
Further Information:
"External support can provide the decisive impetus" - Bärbel Dieckmann about the Global Hunger Index 2017