Tip: Activate javascript to be able to use all functions of our website
100 % Girl Power
News from 2016-12-01 / KfW Development Bank
KfW promotes HIV education and condoms in Central Africa
The magazine "100% Nana" ("100% girls") is read with great interest in the Democratic Republic of Congo (DR Congo). It provides information about taboo subjects such as sexually-transmitted diseases and women's health. KfW, acting on behalf of the German Federal Government, finances the production of the magazine as part of a Project for the Prevention of HIV-AIDS in Central Africa (PPSAC), for which EUR 25 million was provided. The UN marks World AIDS Day (1 December 2016) to remind us that, despite the progress made, the AIDS epidemic has yet to be defeated. Young women in Sub-Saharan Africa are especially at risk.
Should my boyfriend use a condom? Will he leave me if I don't go along with what he wants? "Tata Carolle" has the answers to such questions. The "aunt" advises the readers of her popular column in the Congolese women's magazine "100% Nana" on problems the girls are ashamed to talk about with their mothers. "I have become well known through my column", says Carolle Mayama, kindergarten teacher at the University Hospital of Brazzaville. "When the magazine asked me to work with them, I had no idea how it would unfold. Girls even approach me on the street and tell me how much my advice has helped them."
"I learn something new every time I read the magazine", Mauricia Timbia comments. The 16-year-old schoolgirl says: "It is a really good magazine. Since I started reading it, I have learnt to always use condoms so that I am protected against all sexually-transmitted diseases." Mauricia belongs to the target group of 15 to 24-year-old women in DC Congo, most of whom can read. Men also read the magazine. Transport worker Lilian Ndzi brings his wife the magazine from the kiosk. "I sometimes read it before she shares it with her sister-in-law." Around 36,000 copies are printed in every edition. Besides information, the magazine also contains stories about stars and celebrities, successful business women and opinion polls.
Women disproportionately affected by HIV
KfW has already promoted the youth magazine "100% Jeune" ("100% Youth") in Cameroon, as part of a broad-based approach to communication. The local social market agency AMSCO in DC Congo has further developed this successful approach for girls. This campaign is only part of the regional project that in addition to DC Congo also includes Cameroon, Chad and the Central African Republic.
Girls and young women are disproportionally affected by HIV and AIDS: worldwide, 47 percent of newly-infected persons are women, rising to as much as 56 percent in Sub-Saharan Africa. The illnesses caused by HIV are the most common cause of death among girls and women of childbearing age in Africa. Girls and women must be able to inform themselves freely and comprehensively in order to give themselves the chance to make their own decisions about their health and protect themselves. A magazine such as "100% Nana" plays an important role here.
Increasing the availability of condoms
KfW's programmes are also supporting access to condoms. Around one million condoms for men and 3.7 million female condoms were financed between 2012 and 2015. This means that some 8.4 million couples were able to protect themselves against sexually-transmitted diseases and unplanned pregnancies for an entire year.
The social marketing of condoms for men and women in DC Congo is a part of the national HIV strategy. It is also a success for the KfW project, which has been active in the region since 2008: with an average of 2.4 condoms per person and year, condom usage here is by far greater than in the neighbouring countries.
In addition to educating and improving access to condoms, the regional project supports measures against the discrimination of people infected with HIV. The Congolese Social Marketing Organisation produced a song for this purpose that is sung by well-known local singers.
You will find the songs against discrimination here:
NA NDIMI YO - Je t'accepte! 2.0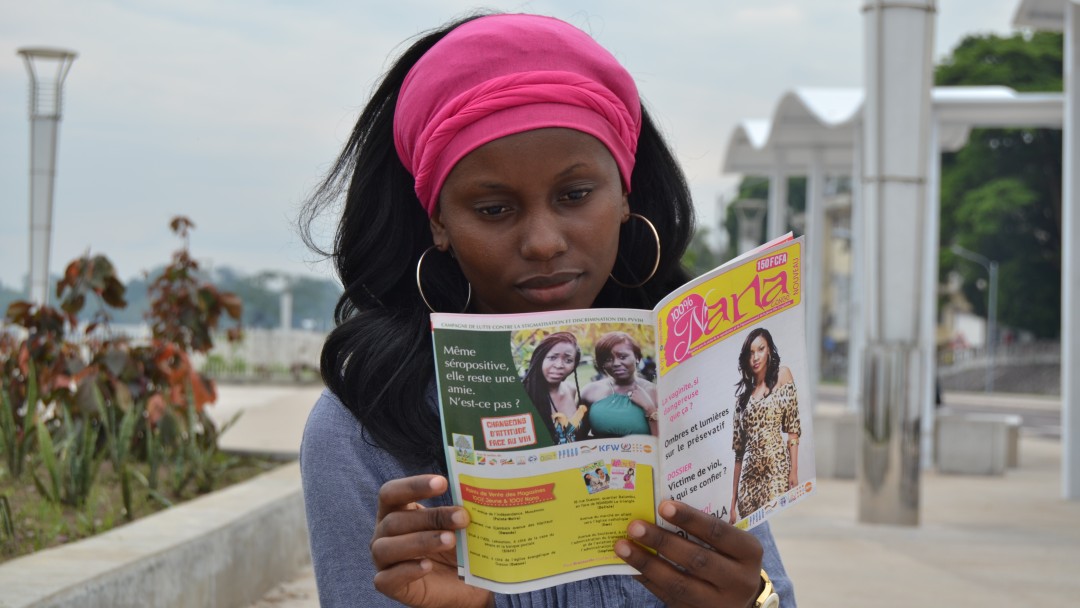 Young women and girls receive answers to pressing questions regarding sexuality and health in the magazine "100% Nana".