Tip: Activate javascript to be able to use all functions of our website
News from 2016-07-19 / KfW Development Bank
Financing climate protection measures with an international climate fund
KfW experts report on their initial experiences with the Green Climate Fund
"It's remarkable how quickly things can be moved when people have the chance to make history," said KfW project manager John Scholl, talking about the development of a project in Bangladesh financed by the Green Climate Fund (GCF). One of the first projects that the GCF Executive Board made a commitment to was submitted by KfW in 2015. The Fund approved a grant of USD 40 million for shelters in Bangladesh, where the inhabitants of the coastal region can seek refuge in hurricanes or floods.
Two-storey multi-purpose buildings where men and women can stay overnight on different floors in an emergency are being erected. Up to 1,500 people can be accommodated in each shelter, a number set to rise to as high as 75,000 overall in the future. The GCF examined every detail of the proposal with extraordinary accuracy, explained project manager John Scholl in a conversation with the KfW climate expert Jochen Harnisch. Not only the funding per se, but also the effects the project would have on gender justice and environmental issues were thoroughly scrutinised, he added. "The GCF wants to know the impact it is going to have with its money," says Mr Scholl.
"The GCF offers an innovative structure for financing climate change adaptation measures," explains Claudia Arce, who is responsible for cooperation issues with the Fund at KfW and heads up the South Asia Division. These new structures also offer an opportunity for the private sector to get involved in the financing of climate change adaptation in a much more meaningful way, she explained. For this to succeed, the Fund must be made more flexible. But the first step has already been taken. The responsibility the participating countries – in this case, Bangladesh – must assume has been increased significantly. In this respect, the GCF is contributing to a paradigm shift.
The project for constructing shelters in Bangladesh has a total volume of USD 80 million. In addition to the GCF grant amounting to USD 40 million, on behalf of the German Federal Ministry for Economic Cooperation and Development (BMZ), KfW will provide around USD 15 million (roughly EUR 13.6 million), while the Bangladesh government will contribute USD 25 million.
Further information:
Jochen Harnisch in an interview with Claudia Arce, Head of the KfW South Asia Division
Jochen Harnisch in an interview with Johannes Scholl, KfW Project Manager for Bangladesh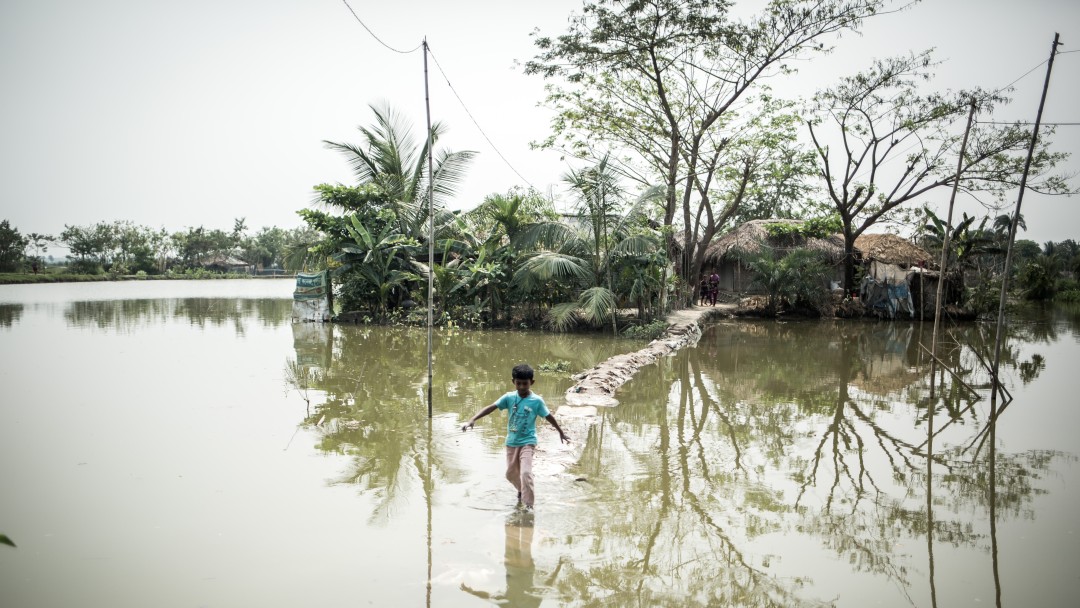 Shelters are being built with the funding from the Green Climate Fund, offering people a place of refuge from the frequent floods.