Tip: Activate javascript to be able to use all functions of our website
Sex education from a crank radio
News from 2016-07-11 / KfW Development Bank
Radio series form part of KfW's commitment to family planning in Niger
Lots of listeners in Niger are following "The Adventures of Foula" on their crank radios. The word "foula" is used to describe a traditional sun hat that men wear and – at the same time – refers to a well-known condom brand. The "Foula" radio series addresses topics such as family planning, early marriage and girls' education. On behalf of the Federal Ministry for Economic Cooperation and Development (BMZ), KfW is supporting these spots and a range of other measures aimed at promoting sexual and reproductive health in Niger. It is financing similar projects in 27 other partner countries. The UN reminds us of just how pressing and important population issues are with World Population Day on 11 July, which this year is being held under the motto "Investing in teenage girls", since many girls are forced to leave school early, marry and have children.
By tuning into "The Adventures of Foula" radio spots, listeners can learn about the use of contraceptives in an entertaining way. Indeed, such information is extremely important in a country where, on average, women marry at the tender age of 15 and have eight children. Many women would like to have longer breaks between births, but need advice and reliable access to modern family planning methods.
Young girls are an important target group of the campaign in Niger, which is being implemented by the local NGO, Association Nigérienne de Marketing Social (Animas-Sutura). "Social Marketing" uses commercial marketing methods to achieve social goals and behavioural changes. In this case, KfW is financing the marketing and sale of contraceptives at subsidised prices or communication measures such as radio spots and the sponsoring of sports events. In so doing, KfW is supporting Nigerien family policy, which aims to improve health – particularly among women and children – and also supports more moderate population growth. Niger's population growth is currently almost four percent, which is well above the regional average.
Singers and athletes are supporting the campaign
The campaign has many voices. Indeed, well-known Nigerien singers, wrestling athletes and traditional dignitaries have come out in support of it. Advertising spots and skits talk about the benefits of condoms, contraceptive pills and three-month injectables. In the very traditional and predominantly Islamic country, sex education was initially offered in around 90 schools as part of the programme. "The mere fact that sexuality and contraception can be openly talked about in the classroom or in youth groups is an incredibly great and liberating step towards self-determined life planning for young girls and women," says Cornelia Tittmann, the KfW Senior Project Manager who is responsible for the programme. In another project, KfW is promoting the construction and equipment of primary schools in Niger and is explicitly emphasising the need for girls to go to school, as experience shows that this contributes to reduced birth rates.
"Since the campaign began, none of the girls attending our training centre for early school leavers have had an unwanted pregnancy," says the Head of a Nigerien youth centre in Niamey. Talking about "The Adventures of Foula" has had yet another additional positive effect: the students are learning to express themselves better, especially in French, which is a second language for many.
Contraceptives on sale at small kiosks
Animas-Sutura, the NGO, has also set up a distribution network for contraceptives. They are sold through pharmacies and retail outlets in villages within the rural project regions of Maradi and Tillabéry, as well as in Niamey in grocery stores, at hairdressers, in cafes, at petrol stations and at countless stalls, for example. The saleswomen earn a small profit that improves their incomes. The NGO is also operating 29 kiosks along main roads for long-distance lorry drivers where condoms are sold at an affordable price. Long-distance lorry drivers, soldiers and prostitutes are the most affected by HIV and AIDS in Niger too. While the virus has not experienced an epidemic spread there up until now, the government attaches a great deal of importance to prevention.
On behalf of the BMZ, KfW has supported reproductive and sexual health in Niger in several successive projects since 2003 and – in so doing – has invested more than EUR 30 million in total to date. In the last two years alone, KfW has thus helped to double the use of modern contraceptive methods in the project areas. With the products distributed through the project, roughly 224,000 couples could protect themselves against unplanned pregnancies and sexually transmitted infections for an entire year. The programme is set to be continued over the next few years and supplemented by a more comprehensive project designed to strengthen the healthcare system.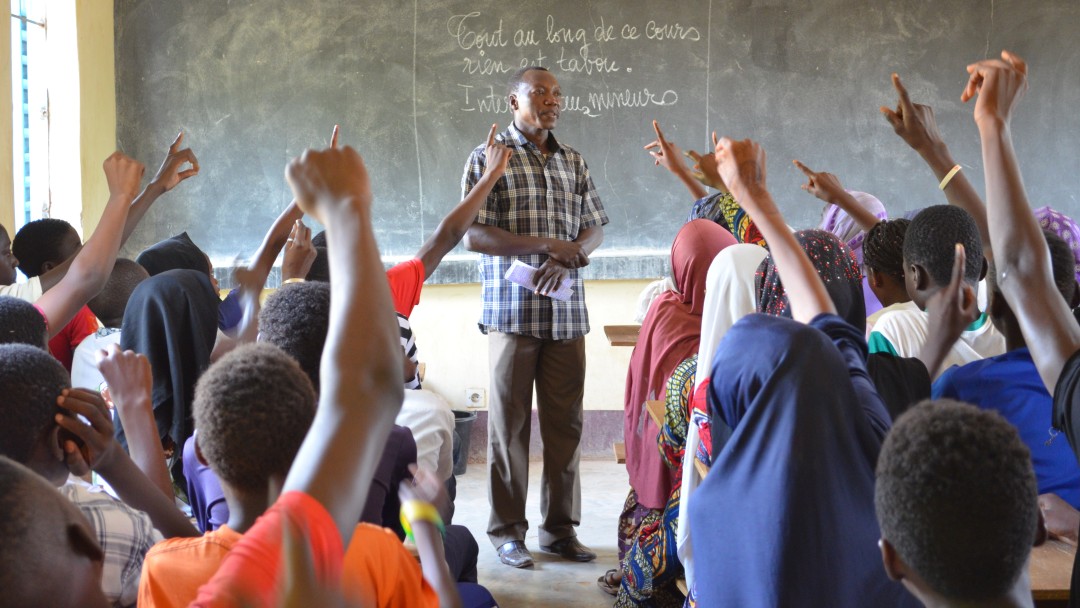 "Nothing is taboo" is the motto of this sex education class in Niger.