Tip: Activate javascript to be able to use all functions of our website
News from 2023-06-06 / KfW Development Bank
Strengthening the financial inclusion of women
Women's World Banking supports women in accessing digital financial services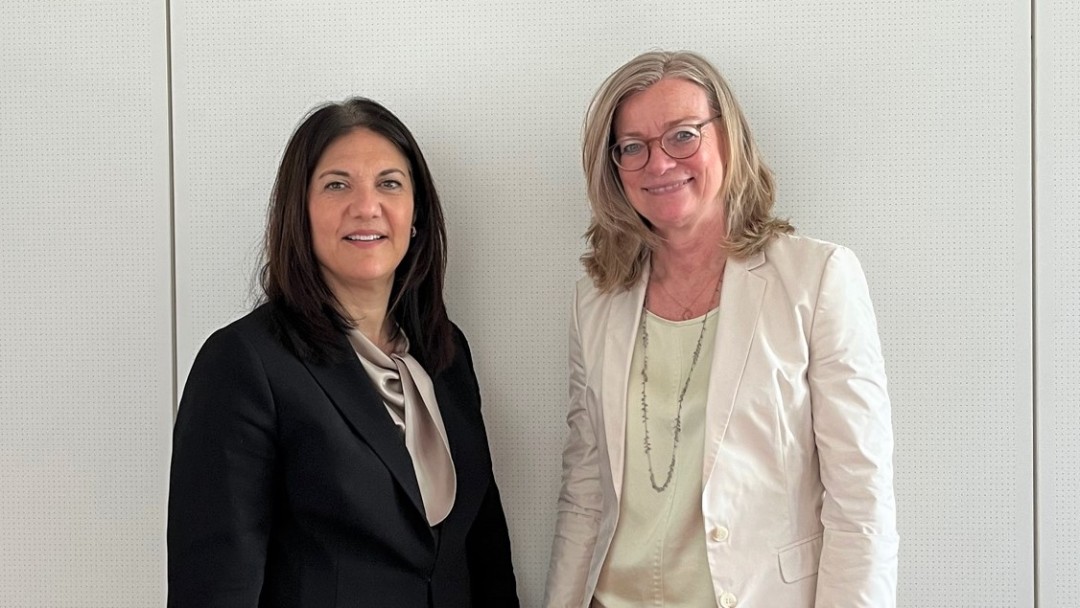 Mary Ellen Iskenderian (president and CEO of Women's World Banking), left, and Christiane Laibach (member of the KfW management board), right, met at KfW in Frankfurt.
The financial world is still mostly in the hands of men: around one billion women worldwide still have no access to financial services. The nonprofit organisation Women's World Banking (WBB) has made it its mission to change this, to help women earn more of their own income, to involve them more in economic life and to ensure that they are represented equally in financial institutions. "We know without a doubt that when a woman has greater control over the financial resources that she is generating or that are coming into the household, she has a louder voice and a more decisive role in household decision making," says WWB president and CEO Mary Ellen Iskenderian, who recently met with KfW Board Member Christiane Laibach. KfW has been supporting WWB's work for many years and is invested in both of the organisation's funds on behalf of the European Commission and on behalf the German Federal Ministry for Economic Cooperation and Development (BMZ).
The financial inclusion of women is one of the keys to gender equality and progress in economic development. Studies show that women's economic empowerment has a large "multiplication effect". Compared to men, women invest a larger share of their income in their families and communities, for example by financing health care or the nutrition and education of their children. This is one of the reasons why Germany, under Development Minister Svenja Schulze, is focusing on a "feminist development policy", in which KfW Development Bank is also involved significantly. Financial Cooperation cannot be successful in the long term if global gender inequality persists.
Women's World Banking contributes to the financial inclusion of women by supporting more than fifty independent microfinance institutions and banks worldwide that offer loans, savings accounts and other financial services, especially for female entrepreneurs. At the same time, the aim is to promote women as employees, especially in management positions, in the financial institutions and companies supported by WWB. Digitalisation is playing an increasingly large and important role in this: "Digital technologies have the potential to be a silver bullet," says Mary Ellen Iskenderian in an interview with the [digital.global] network. "There's a lot of data that shows that when technology is available to them, and they're trained and empowered, women are more willing than men to choose a digital financial service." However, this access needs to be improved first. For example, there is still an 17% gender gap in smartphone ownership.
Increasing women's participation in digital technologies and giving them access to financial services is therefore one of WWB's main goals: "We're excited about the possibilities that digital technology offers to overcome barriers of mobility," says Mary Ellen Iskenderian. Women who run small or medium-sized businesses could access e-commerce platforms and significantly expand their radius of action and business. But Iskenderian also sees governments having a responsibility here, because around one billion women worldwide do not have access to a (digital) proof of identity. However, this is a prerequisite for being able to use the formal financial system and is also necessary for the enforcement of rights: "Women's ID is in the legal system very tied up to marriage laws, birth, customs, family, and family law. We really need to separate those two things so that women are able to gain access to that digital ID which is crucial for financial inclusion," says the WWB president. According to her, this is not only crucial for financial inclusion but is also becoming more important for access to government and private services as digitalisation advances.
Mary Ellen Iskenderian will be speaking at a lightning talk at "re:publica" in Berlin this Wednesday (7th June 2023), where she will address the need for a feminist development policy and access to digital financial services.