Tip: Activate javascript to be able to use all functions of our website
News from 2023-01-09 / KfW Development Bank
European Perspectives: Water - either scarce or more than plentiful
Water and electricity are considered the elixir of life in the Gaza Strip. That is why KfW is supporting the territory in securing a sustainable supply of both.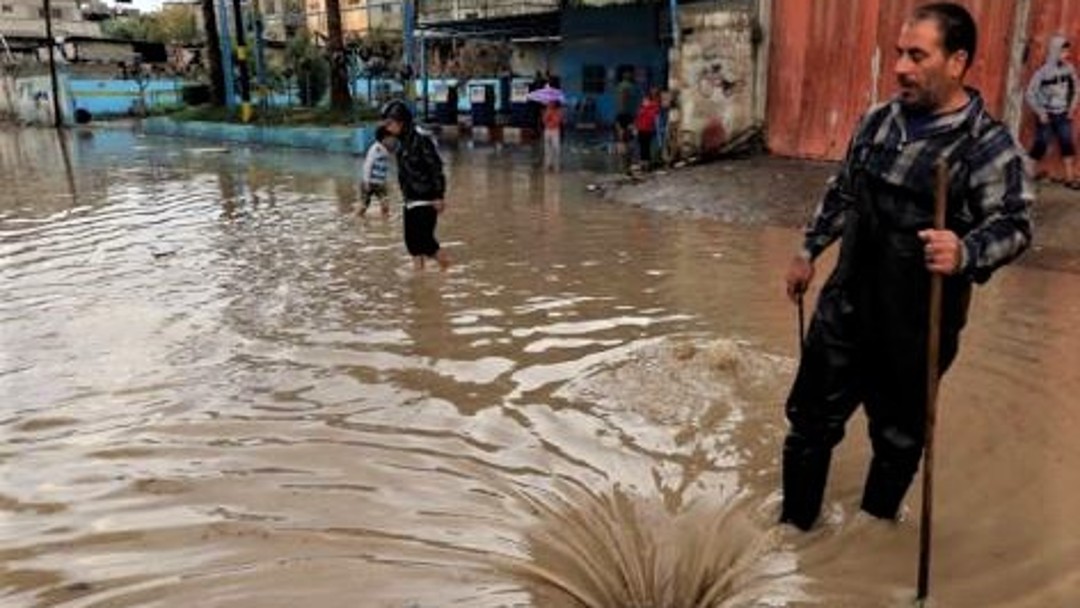 Masses of water in front of a market - economic life comes to a standstill here.
The Gaza Strip is a small strip of land between Israel and Egypt: it stretches for 40 kilometers parallel to the Mediterranean coast and measures just between 6 and 14 kilometers in width. This makes it smaller than the federal state of Bremen in Germany or the Austrian capital Vienna, but its potential for political conflict is traditionally high. Time and again, this part of the Palestinian territories, which has faced a far-reaching blockade since 2007, is affected by military conflicts. The economic situation is tense, 80% of the population is dependent on external support. 2 million people live on this strip of land, which is one of the most densely populated areas in the region.
Water and electricity are essential for life and the economy there, but also scarce - and above all unsafe. Electricity is largely supplied by Israel and is thus subject to the ups and downs of the conflict. On the one hand, there is not enough water because the heat in summer dries out the area. On the other hand, it rains so much in winter that floods occur again and again, which can noticeably restrict everyday and economic life.
Catastrophic heavy rains affect the Gaza Strip
"It doesn't happen that often during the year, but when such heavy rain events occur, they are catastrophic. We experienced this last November and - somewhat weaker - also over Christmas," says KfW's Ramallah office manager, David Kunze. This effect is exacerbated by increasingly sealed surfaces, as brought about by road and house construction in such a densely populated area, which disturbs the natural drainage of water in many places.
It is this mixture of particular geographical and political circumstances that make water and electricity supply in the Gaza Strip a challenge, but also a necessity for its continued peaceful and economic development. This is why KfW is involved in both sectors. Two new projects, signed in December, now build on this, complementing each other. KfW is acting here in cooperation with the EU.
Retention basins and drainage facilities
In the water sector, the aim is, on the one hand, to improve and anticipate flood situations and, on the other, to replenish groundwater reservoirs during the rainy months so that more water is available in the dry season. To this end, a total of 12 projects have been identified that are to be implemented at various locations in the Gaza Strip at a cost of EUR 16 million. These include retention and infiltration basins, pumping stations, drainage pipelines and mobile pumps.
In this way, for example, the main artery Salah Al Deen, which stretches from north to south through the Gaza Strip and connects all the important cities, should not be repeatedly flooded and paralyzed. For this, a depression along the road will be equipped with pipes and pipelines in such a way that water drains away quickly even during heavy rain. In Rafah, a pumping station and a seepage basin are being built to hold water. Mobile pumps are also being purchased that can quickly provide relief in an emergency.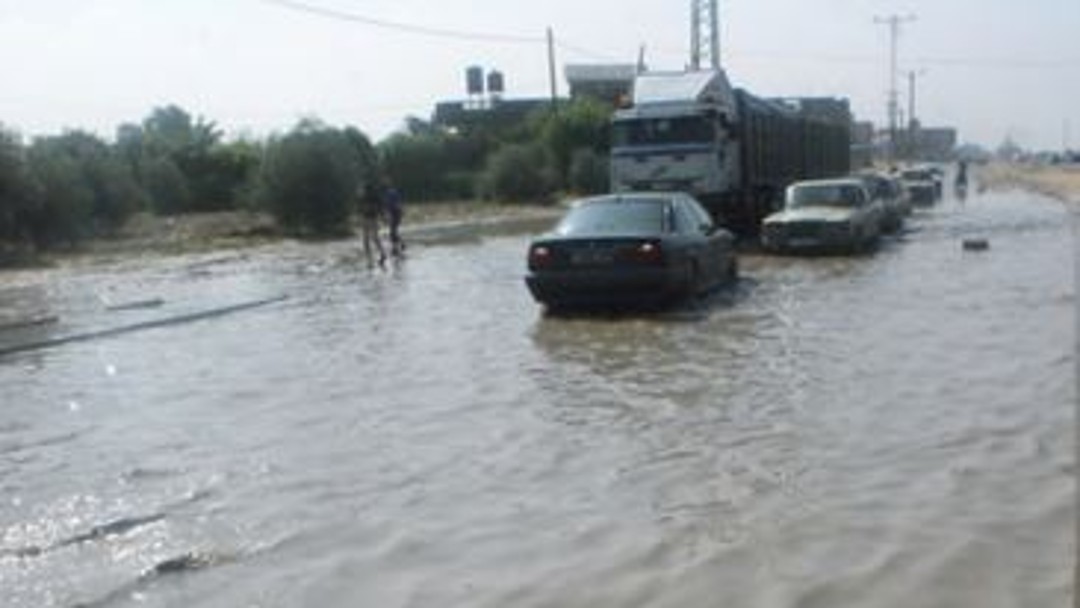 When Salah al Deen Road is flooded, traffic regularly comes to a standstill.
KfW is implementing the 12 projects on behalf of the EU together with CMWU (Coastal Municipalities Water Utility), who is in charge of the water and wastewater services in the Gaza Strip. "The project activities will directly benefit 75,000 people. Hundreds of thousands will benefit indirectly from the improved water management, because everyday life will then run more smoothly overall during the rainy weeks," says Monther Shoblaq, Director General of CMWU. In few regions of the world the pressure of overlapping and mutually reinforcing difficulties can be felt as much as here. But at least in terms of flood protection, the course has now been set for sustainable relief, which will also create new opportunities for the Gaza Strip. "This frees us up to take further development steps that will offer prospects to the people here," says Monther Shoblaq.
Water has traditionally played a major role in cooperation with the Palestinian territories, as with the Arab world in general. But so far, it has been more about water supply in the narrower sense or about efficient methods of using water. This is now the first international project to contribute to the issue of heavy rainfall and mitigation of flooding in the Gaza Strip. Others are likely to follow, as such extreme weather events are already occurring more frequently than before. "The climate projection for the region shows that extreme weather events such as heavy rainfall and associated flooding are likely to have an increasing trend there," says Anja Volk, the project manager in charge. "That is why it is important to address this challenge quickly and consistently."
Sustainable energy as a contribution to more security of supply
In addition, the EU has mandated KfW with a second project: This involves the expansion of renewable energies in the water sector and also in the school and health sectors. The aim is to contribute to a climate-friendly energy supply for public infrastructure, but above all to become less dependent on external energy supplies. Every PV system - the potential for which is particularly great in the Gaza Strip - strengthens self-sufficiency.
The focus is on six measures worth almost EUR 9 million, including a two-megawatt solar plant for a sewage treatment plant in Khan Yunis in the south of the Gaza Strip, small PV systems on wells and on the roofs of school buildings and health centers, as well as "smart meters" and battery storage. Here, the cooperation with the energy provider PENRA (Palestinian Energy and Natural Resources Authority) is ongoing. "In the past, the lack of energy has repeatedly meant that basic services such as drinking water or health services could not be offered," David Kunze explains.
Both projects are also to be implemented quite quickly. The plan is to complete the 18 measures within about three years. This would certainly not solve all the water and electricity problems there. "But they bring forward the development of the Gaza Strip and contribute to more security of supply," says Anja Volk. Which also makes the lives of the people in this conflict-ridden region a little more predictable.