Tip: Activate javascript to be able to use all functions of our website
News from 2022-11-10 / KfW Development Bank
Solar energy for India
KfW supports rapid conversion of energy supply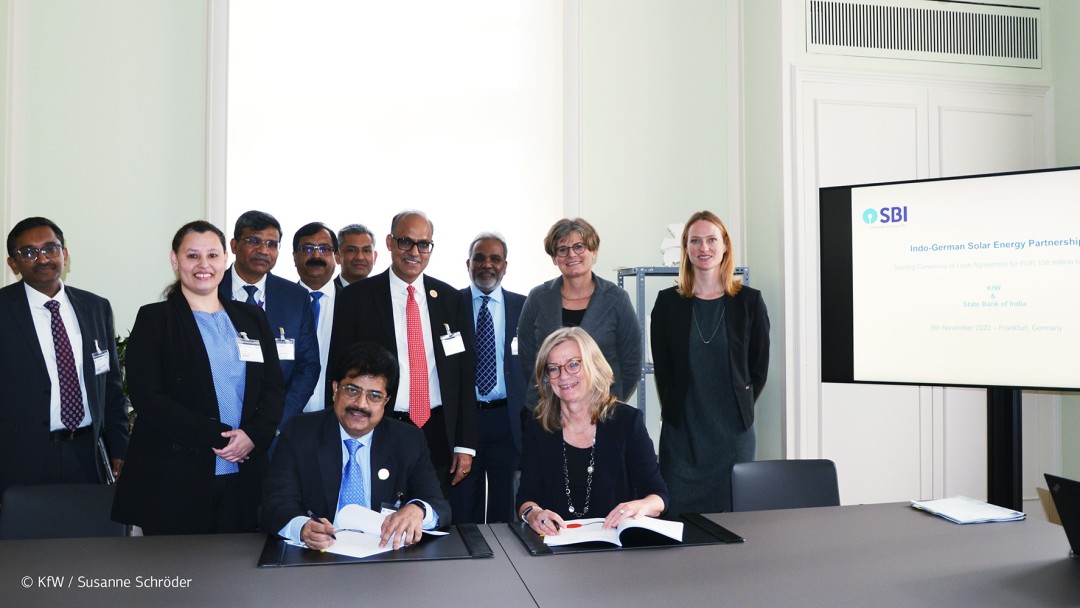 Signing of the loan agreement with the State Bank of India (SBI) at the KfW-Villa with KfW-Executive Board member Christiane Laibach.
India has set itself the ambitious goal of expanding solar energy eightfold in the coming years. KfW is promoting this on behalf of the German Federal Government with a loan of EUR 150 million. The contract was signed on 8 November. This is already the second loan with India's largest state bank, the State Bank of India (SBI), as part of the solar partnership with India. Another loan for the same amount has already been successfully disbursed. The supported plants will produce a total of more than 600,000 megawatt hours annually. Furthermore, the measures will reduce the increase in greenhouse gas emissions by 500,000 tonnes of CO2 per year.
Still 20% of the Indian population is not connected to the electricity grid. The government is pushing ahead with electrification. Households already supplied with energy will also demand more electricity in the future, so a rapid increase in consumption is to be expected. This will also emit more greenhouse gases.
India is already the third largest emitter in the world after China and the USA. One third of India's emissions are due to power generation. To ensure that greenhouse gas emissions do not increase further due to electrification, India is focusing on the use of renewable energies, whose share is currently around 17.5% and has increased in recent years. The goals are ambitious: By 2030, the capacity for electricity from renewable energies is to be 500 gigawatts.
On behalf of the German Federal Ministry for Economic Cooperation and Development (BMZ), KfW is implementing a solar partnership with India to promote the expansion of solar energy. It has already provided EUR 150 million for this purpose, and now another EUR 150 million is being added. These will be granted as loans to project developers via the SBI.
Focus on environmental and social standards
KfW pays special attention to compliance with environmental and social standards. Environmental regulations include, for example, that operators of solar parks who want to benefit from KfW's favourable loans must provide evidence of water management. This is because solar parks are often located in arid areas or even deserts whose land is not used for agriculture. To keep the solar modules clean, water is needed, which is scarce in these regions. It is therefore important to use it sparingly. KfW supports innovative solutions such as the use of automatic dry cleaning systems at the solar park in Jaisalmer in the province of Rajasthan. Huge rotary brushes are installed there, which run over the solar modules at regular intervals and remove dust from them.
KfW is also promoting the use of bifacial modules, which absorb solar energy on both sides and also use the radiation reflected from the ground, which significantly increases the electricity yield.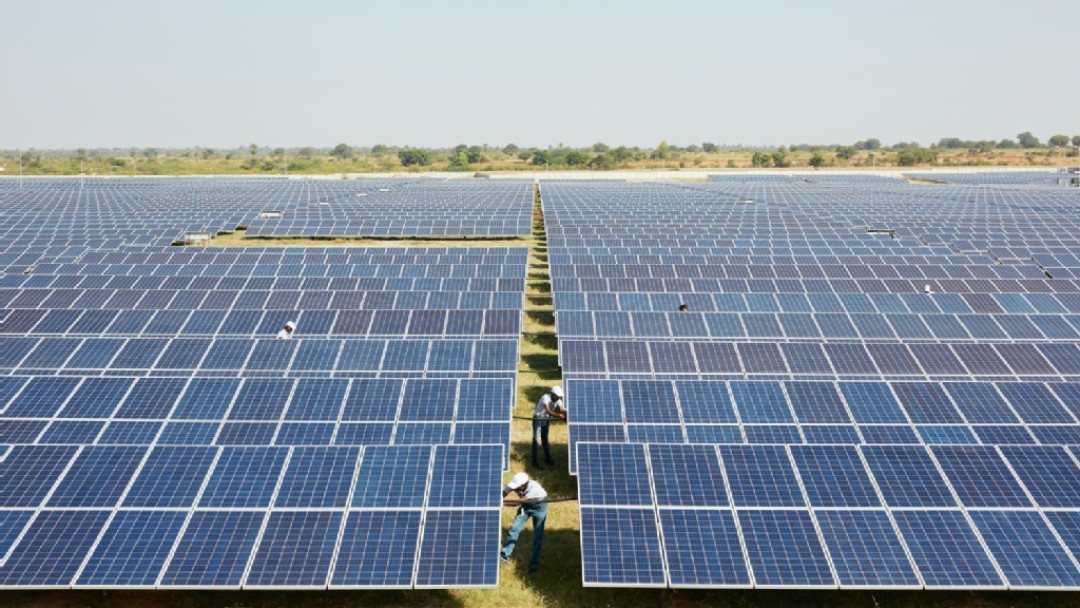 India wants to significantly increase the share of renewable energies in electricity generation by 2030.
Raising awareness among borrowers
The KfW project helps to ensure that environmental and social aspects are also further anchored in the SBI's appraisal and monitoring process.
"We want to sensitise the market to the issue and hope that in future project providers will also pay attention to compliance with the standards in other projects not promoted by KfW," explains KfW portfolio manager Jördis Flöther.
The solar parks supported by KfW will ensure annual energy production equivalent to the consumption of around 710,000 Indian private households. These renewable energy capacities help to avoid air pollutants and greenhouse gas emissions that would have been produced if electricity had been generated using fossil fuels. They contribute to the construction of fewer thermal power plants or even replace them. Therefore, the project contributes to the climate-friendly transformation of the Indian economy.
SDG 7 – Affordable and clean energy | KfW Development Bank (kfw-entwicklungsbank.de)
SDG 13 - Climate action | KfW Development Bank (kfw-entwicklungsbank.de)