Tip: Activate javascript to be able to use all functions of our website
Water from the tap – that goes without saying, right?
News from 2018-03-21 / KfW Development Bank
1.9 billion people live in regions where water is in short supply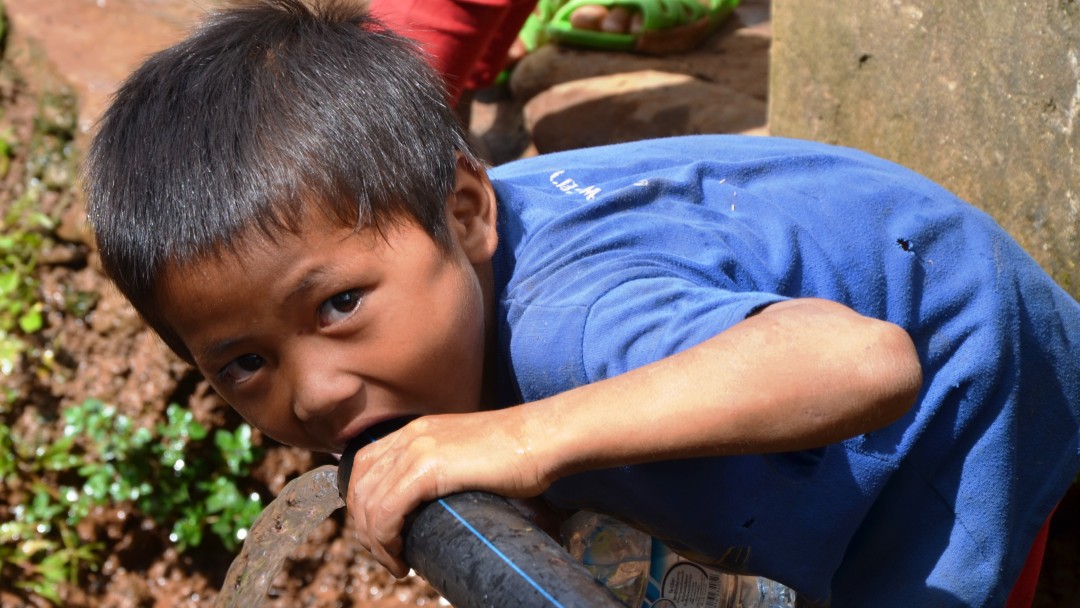 On World Water Day (22 March), the UN highlight the importance of clean water for development.
When we set foot in the office, the first thing most of us do is head straight for the coffee machine and then to the water cooler – for sparkling or still water. That goes without saying, right? Well, at least for us. But for 2.1 billion people around the world it still is not a matter of course, not even in 2018. They have to drink low-quality water, travel long distances or wait for ages for water to come out of the tap again. This is time that they could put to better use. Every year on 22 March, the UN commemorates World Water Day to raise awareness about this problem.
Some 1.9 billion people already live in regions where water is in short supply. By 2050, this figure could reach as high as three billion. We can see what this means right now in Cape Town in South Africa, which is undertaking extensive water saving and investment measures to try and avert "Day Zero", the date on which the taps get switched off and a state of emergency declared.
Even participants at the Munich Security Conference in February discussed the link between climate change, poverty, water scarcity and terrorism from the perspective that "anyone who is hungry, thirsty and poor is more receptive to recruitment by terrorist groups." This is another indication that water scarcity is now considered a security risk. Moreover, the living conditions that prevent people from living decent lives and the resulting conflicts often lead to people leaving their familiar environment and seeking refuge elsewhere.
Take Africa, for example: in Uganda, people are fleeing from the armed rebel force known as the Lord's Resistance Army and moving to the south of the country to places like Gulu, which is now bursting at the seams. KfW is helping the city to make enough water available to locals and refugees and to provide waste water disposal and sanitation services to prevent the spread of diseases.
A total of 1.2 billion people are currently threatened by flooding.
While too little water has a dramatic impact on people, the environment and the economy, too much water can also have devastating effects. The number of people at risk of flooding is estimated to increase from 1.2 billion people today to 1.6 billion in 2050 – which is almost 20 per cent of the current global population.
This will affect many people in Bangladesh's cities, which are currently outpacing the rest of Asia's fast-growing cities in terms of growth rates. Due to the increasingly dense population levels in cities like Barisal in the south of the country, ponds and canals are being filled up and used for living space or waste disposal. The annual flash floods during monsoon season and flooding caused by increasingly frequent cyclones or other extreme weather events can no longer drain away properly and are already causing devastating damage, especially in the slums. Since the municipality lacks the money and forecasting models for climate-adapted urban development, KfW is providing support with financial resources and expertise.
KfW's current water projects reach a good 260 million people, who benefit from better water quality, increased water reliability, more efficient distribution of resources and improved access to drinking water and sanitation facilities.
Further information
Development in Brief for World Water Day: Protecting scarce water resources through nature-based solutions