Tip: Activate javascript to be able to use all functions of our website
News from 2016-02-04 / KfW Development Bank
Morocco: Pioneer in climate protection
First solar power station put into operation in Ouarzazate
Morocco's first solar power plant has been connected to the power grid: Noor I, Arabic for "light", has a capacity of 160 megawatts and will generate electricity for at least 350,000 people. Over the next few years, four solar power plants will be installed close to the town of Ouarzazate in southern Morocco with an overall capacity of 580 megawatts, supplying power for around 1.3 million people. Compared with conventional electricity generation, at least 800,000 tonnes of CO2 emissions will be saved each year as a result.
King Mohammed VI of Morocco made sure he was present for the connection of Noor I to the grid on 4 February. The Moroccans are proud of their pioneering role in climate protection: The Moroccan government has committed to ensuring that in 2020 about 42 % of the electricity generated will come from renewable energy sources, primarily from wind and solar power.
KfW is supporting Morocco in achieving this target on behalf of the Federal Ministry for Economic Cooperation and Development (BMZ) and the Federal Ministry for the Environment, Nature Conservation, Building and Nuclear Safety (BMUB) as part of the International Climate Initiative (ICI). Together with other international donors such as the European Union and the French development bank AFD, it is contributing towards the investment costs for Noor I by providing EUR 115 million of the loan financing, which equates to around 20 %. KfW is providing funding of EUR 654 million for Noor II and III, making it the largest lender. It is expected that KfW will be the sole lender to finance Noor IV, providing up to EUR 95 million.
Temperatures reach 393 degrees Celsius
A good two years were spent building the first of the four power stations. In this location where the wind otherwise just blows the sand, there are now 537,000 mirrors facing the sky over an area equivalent in size to 650 football pitches. The mirrors direct the sun's rays onto wide pipes. The synthetic oil inside the pipes is heated up to 393 degrees Celsius and fed into a power station unit. "This is where it heats steam that drives a turbine, generating electricity", explains KfW Project Manager Jan Schilling. The oil flows through the pipes back to the solar field at a temperature of 293 degrees Celsius. The cycle for the sustainable generation of power then starts again.
The generated heat can also be stored in liquid salt tanks from where it is extracted and used when power is needed. This enables needs-based electricity production even once the sun has gone down.
Noor II will be larger than Noor I and will work along the same principle. Noor III is designed to be a "solar tower power station": The mirrors reflect the sun's rays onto a central heat absorber that is located on a tower over 200 metres high. Here temperatures of around 700 degrees Celsius will be generated. Noor IV will be a photovoltaic power station.
The project in Ouarzazate is a reference project aimed at assisting with the breakthrough of a low-carbon and environmentally-friendly future technology — not only for Morocco but also for other North African countries.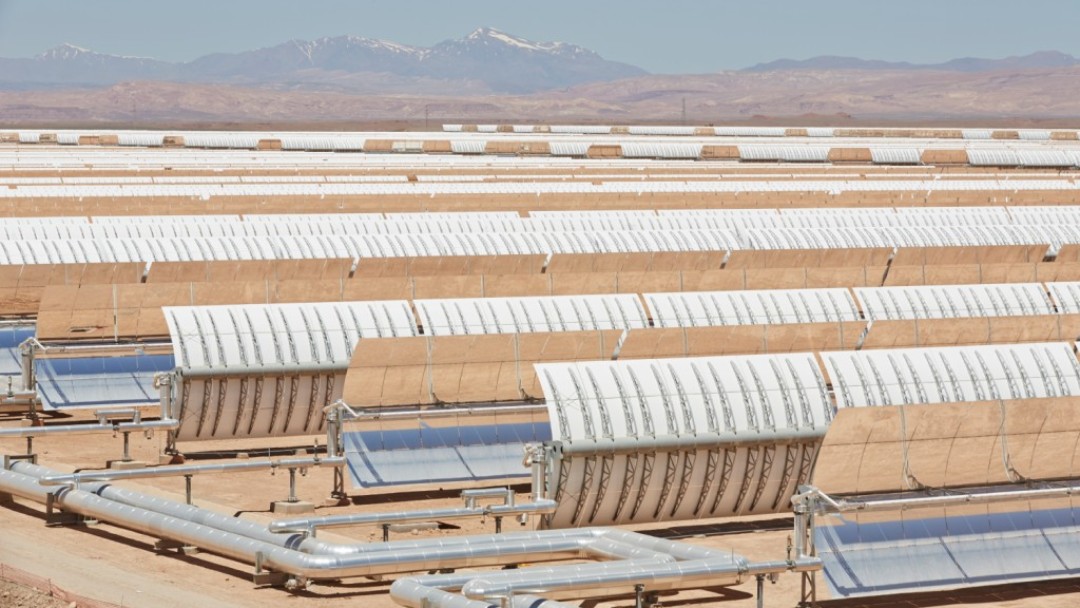 Morocco's first solar station is now in operation near to the town of Ouarzazate.