Tip: Activate javascript to be able to use all functions of our website
News from 2021-04-01 / KfW Development Bank
In times of pandemic: Aid for the Tunisian SME sector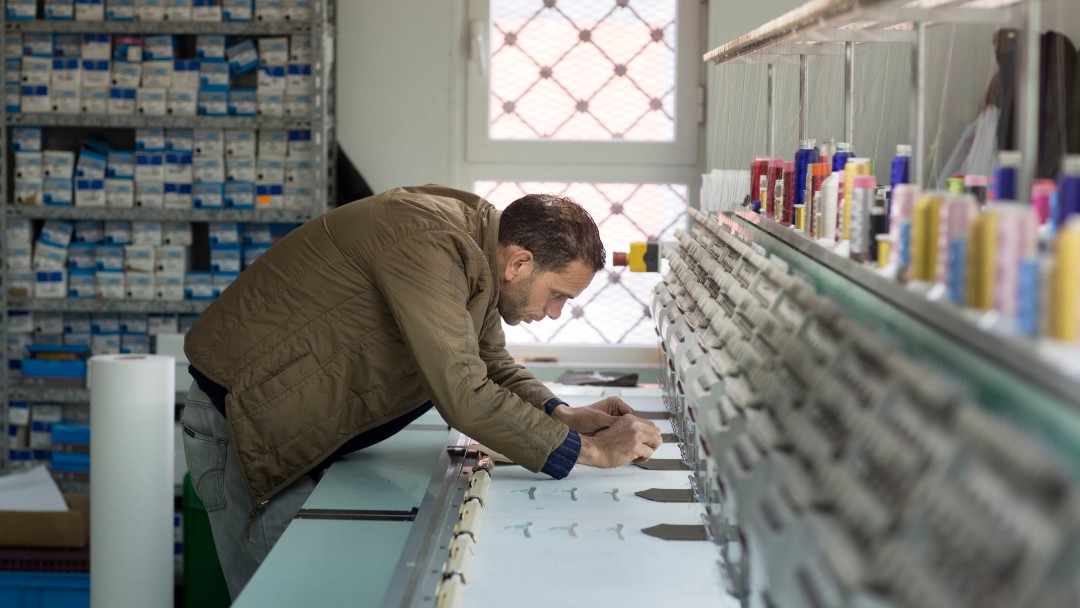 Employees of an embroidery company working on an embroidery machine.
On 31 March the Tunisian Government and KfW Entwicklungsbank – on behalf of the Federal Ministry for Economic Cooperation and Development (BMZ) - signed a contract for EUR 25 million: The recipient of the grant funds is the loan guarantee mechanism SARE ("Soutien et Appui à la Résilience des Entreprises") to support small and medium-sized enterprises that have fallen into financial difficulties as a result of the COVID-19 shock. Many Tunisian businesses are threatened by an acute decline in demand and turnover, and around 60 % have difficulties accessing financial services.
Tunisia's transition to democracy has meant an ambitious reform agenda since the 2011 revolution. Modest growth increases and significant budget deficits mean that the economic situation remains fragile despite the reforms. Economic output and foreign investment have so far risen too low to create enough jobs needed for domestic stability and long-term development. The pandemic is now about mitigating the impact of the crisis on businesses to enable job preservation - thousands are at risk - and a faster subsequent recovery.
The SARE mechanism, initiated by Tunisia in March 2020 with a volume of almost EUR 61 million, is managed by the Tunisian guarantee company SOTUGAR. The increase of EUR 25 million will help more companies to get through the crisis. The guarantee mechanism supports more than 17 partner banks with loan guarantees for working capital loans to enterprises. The loan guarantees are targeted at companies that have suffered a significant decline in turnover of at least 25 % between 2019 and 2020 - and only insofar as this decline is directly related to the COVID-19 pandemic. The guaranteed loans can be used to cover operating costs and debt repayments necessary to maintain jobs and keep businesses afloat. This includes wages and rents, but also costs for water and energy or telecommunications. Through the guarantee mechanism, loans are granted - initially - until 31 December 2021.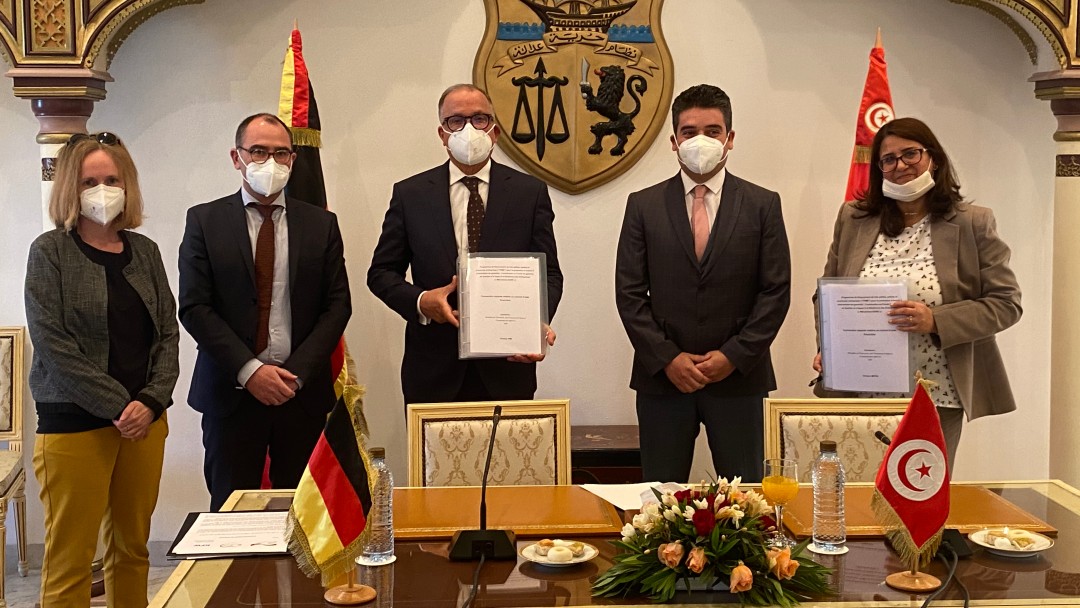 Simone Cremer (KfW), Sven Neunsinger (KfW), Tahar Ben Hatira (SOTUGAR), Slim Tounsi (KfW) and Sonia Zoghlami (Ministère de l'Économie, des Finances et de l'Appui à l'investissement)
The enterprises must fulfil various conditions for the support: Among other things, the businesses must assure to keep their jobs and they must have been without tax arrears at the end of February 2020. The programme is part of the German-Tunisian reform partnership to promote investment and employment. The reform partnership with Tunisia - there are reform partnerships in six other African countries - focuses on the financial and banking sector as well as the area of governance with a current funding volume of 893 million euros.