Tip: Activate javascript to be able to use all functions of our website
News from 2021-02-04 / KfW Development Bank
In its electricity sector, the Western Balkan state is getting closer to the EU
KfW finances new, modern lines across international borders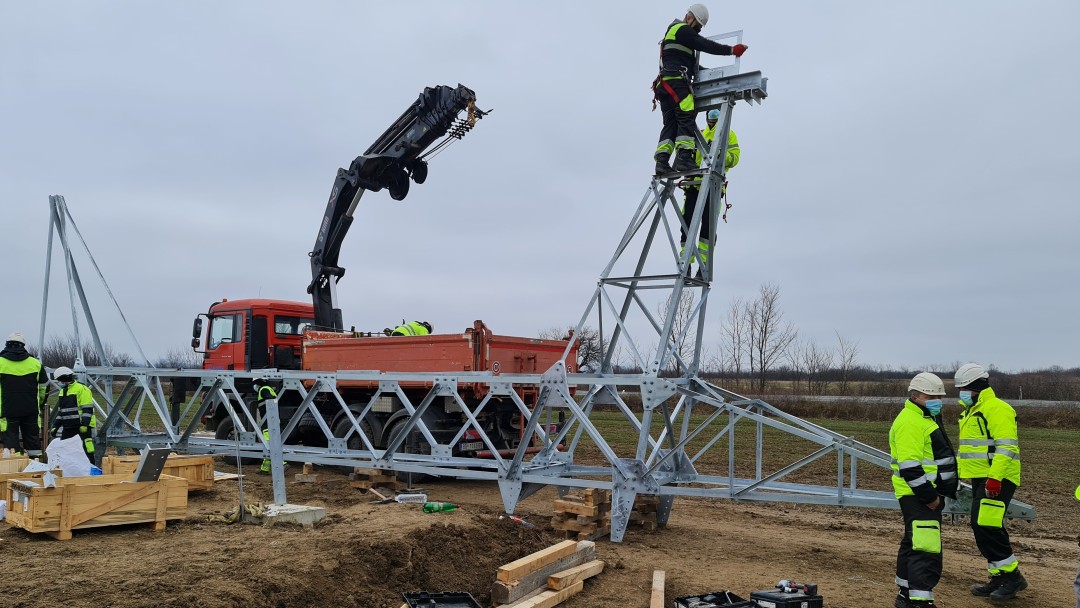 Construction work on the electricity grid in Serbia.
In Southeastern Europe, the "Trans-Balkan Corridor" for the electricity grid is gradually being built. Hundreds of kilometres of new power lines, substations and switchboard plants are intended to better connect the region while also enabling the use of more electricity from renewable sources.
KfW recently signed a further financing agreement to expand the electricity grid in Serbia. It is already covering the third stage of this technically and politically ambitious project. This time, on behalf of the Federal Ministry for Economic Cooperation and Development (BMZ) and the European Union (EU), KfW is financing a section over 100 kilometres long between the city of Obrenovac near Belgrade and the town of Bajina Basta, which is further south.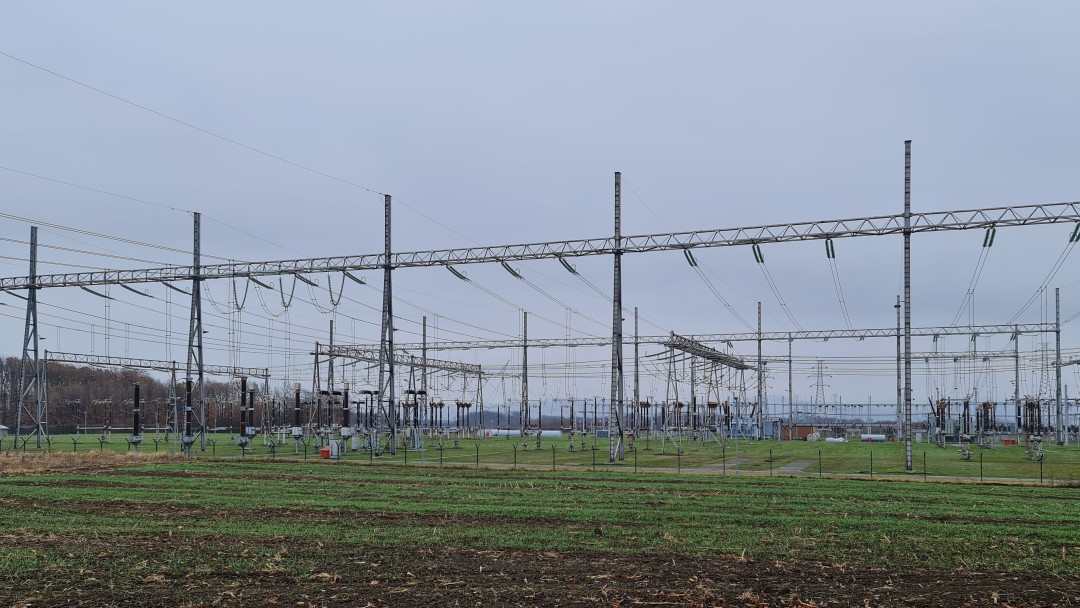 The existing electricity grid is being expanded and extended.
This is making it possible to gradually build a network of modern transmission lines in Serbia, running both north to south and east to west. They connect Serbia – which has a border with eight neighbouring countries – within the region, while also guaranteeing improved standards with better energy efficiency and lower running costs. Each of the sub-projects will ultimately feed into a larger programme that includes a submarine cable from Italy to the Balkans, where it will increase connectivity between the electricity transmission systems in Montenegro, Bosnia Herzegovina, Serbia and Romania.
KfW has also concluded several financing agreements with Montenegro's grid operator CGES (Crnogorski Elektroprenosni Sistem) to advance Trans-Balkan Corridor sub-projects there. These included financing for the new Lastva substation, which is already nearly complete and where the marine cable from Italy will connect. From there, a 150-kilometre high-voltage line continues to Pljevlja, in the northeastern part of the country, near the Serbia border. It is financed by the European Bank for Reconstruction and Development (EBRD).
Prerequisite for an integrated regional electricity market
This doesn't just bring the Balkans closer to the EU: the new transmission lines also boost the volume of trade on the Southeastern European electricity market, which has previously been limited due to overloaded cables. The European Network of Transmission System Operators for Electricity (ENTSO-E) has therefore incorporated the Trans-Balkan Corridor into its ten-year development plan with around half a dozen individual projects and has placed the corridor on its list of projects of overarching significance.
At the same time, the outdated cables, which primarily operate at voltage of 220 kilovolts, are due to be upgraded to 400 kilovolts. They have been in operation for more than half a century and have far exceeded their economic life. That leads to high maintenance and repair costs, as well as power losses and lower security of supply. At 400 kilovolts, the grid is more effective and therefore more stable, and it can take on more electricity from volatile renewable sources.
Keeping multiple objectives in sight at once
In summary, by expanding the Trans-Balkan Corridor, KfW and its partners in Serbia and Montenegro are pursuing the following aims: more capacity in electricity transmission, more reliable and efficient transmission, higher security of supply and a better basis for using energy from renewable sources.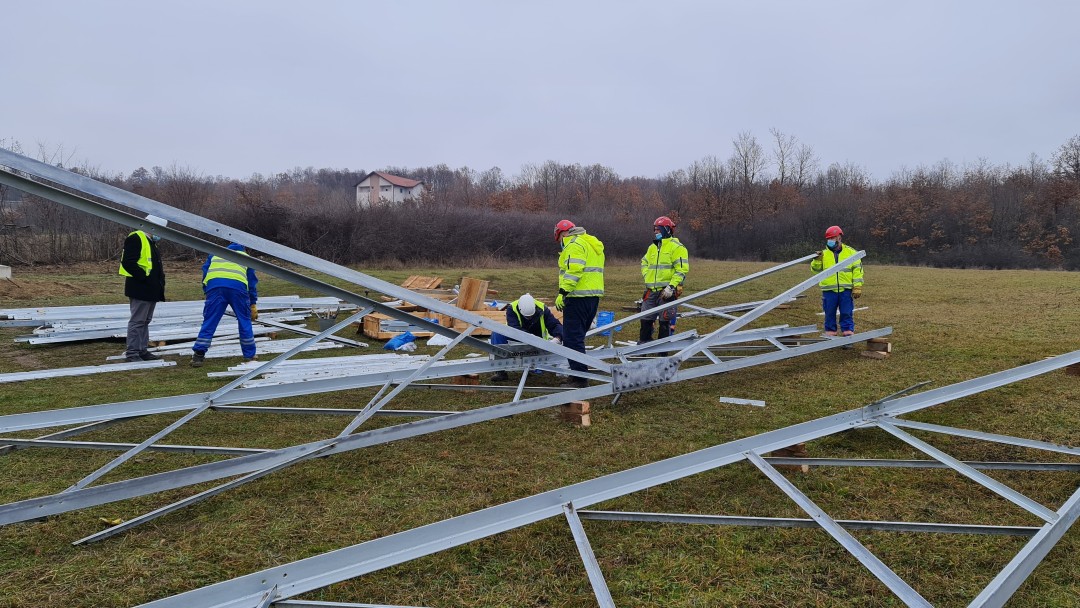 Workers building new electricity pylons.
"As a result, we will be able to offer our customers a more stable electricity supply while simultaneously increasing opportunities to further develop and advance our power supply," comments Jelena Matejić, Director of Serbian grid operator and project partner "Elektromreža Srbije" (EMS), summing up the benefits of modernisation.
The agreement regarding Section III, which has just been signed, comprises a KfW development loan of 40 million euros. Through KfW, the EU is contributing 12.8 million euros via a grant from its "Western Balkans Investment Framework" (WBIF). Overall, KfW is currently involved in the expansion of the Trans-Balkan Corridor in Serbia and Montenegro through financing commitments totalling more than 123.8 million euros. This means that, alongside the technological progress, it is also contributing towards a political objective: "the prospective member states in the Western Balkans get closer to the EU at this level and work more closely together – cooperation breeds cooperation," is how Achim Neumann, the responsible KfW Portfolio Manager, sees it.