Tip: Activate javascript to be able to use all functions of our website
News from 2020-09-28 / KfW Development Bank
More attractive vocational schools for Ukraine
KfW supports modernisation of training facilities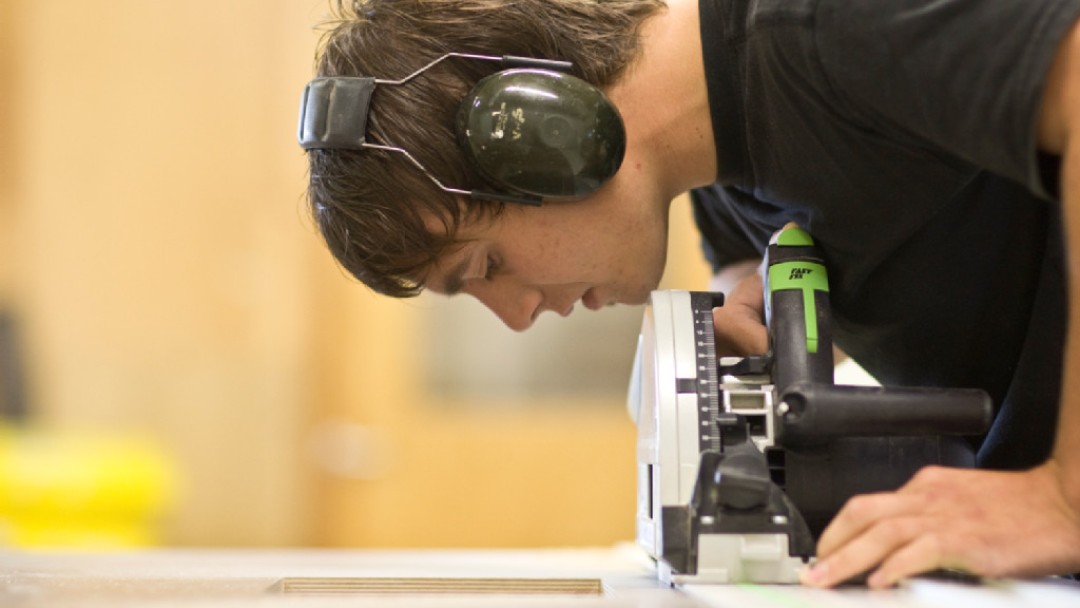 Making education more modern and attractive - this not only creates better prospects for young people but also promotes economic growth.
Vocational education in Ukraine is to become more attractive and provide better training. On behalf of the German Federal Government and the EU, KfW Development Bank is supporting the modernisation of vocational schools in the Eastern European country. It is investing EUR 21 million from the EU's EU4Skills programme and an additional EUR 20 million on behalf of the Federal Ministry for Economic Cooperation and Development (BMZ). The EU4Skills agreement was signed in summer 2020, with the Federal Ministry for Economic Cooperation and Development agreement to follow.
Fewer and fewer young people in Ukraine are interested in vocational training. The number of students attending vocational courses more than halved between 1990 and the present day. Among school leavers, further study is much more highly regarded than vocational training. From visits to vocational schools, it's clear why: many of the buildings are from the Soviet era and are in need of renovation. Their facilities are out of date and inadequate. Nonetheless, in recent years Ukraine has made significant efforts to improve its vocational training system. In particular, it has begun to decentralise it. However, companies complain that the training content in vocational schools does not match their requirements.
Reforming vocational training and modernising the facilities are important prerequisites for economic growth in the country. Important sectors for the Ukrainian economy are currently services, agriculture and heavy industry. The rate of domestic value creation is still low and there is potential for growth here. At 9%, unemployment is high, and the rate among young people is close to 20%. Given this lack of prospects, many young people decide to emigrate.
KfW is helping Ukraine to modernise its vocational schools. It is investing EUR 21 million from the EU's "EU4Skills: Better Skills for Modern Ukraine" programme, for which the EU is providing EUR 38 million in total. There are also additional co-financiers who are further increasing the programme's volume. KfW is using the EU funds to modernise 14 to 18 vocational schools in seven areas of Ukraine. Indoor spaces are being renovated, roofs repaired and new windows put in, which also makes the buildings more energy efficient. Furthermore, new equipment and machines are being provided, while workshops are fitted out with state-of-the-art technology.
In addition, KfW is spending EUR 20 million on behalf of the Federal Ministry for Economic Cooperation and Development to improve the infrastructure for vocational training in Ukraine. These Federal Ministry funds are being used to finance the expansion of three centres of excellence – vocational schools with particularly high standards. The expansion is taking place in close consultation with industry to ensure that its requirements are factored in. The aim is to create flagship projects for practice-oriented training, which will inspire other schools in the region.
Both programmes benefit vocational students and their teachers. Furthermore, the measures have a positive impact on the economy, because future workers receive better, more practice-oriented training. Modernisation of the infrastructure helps to improve the image of vocational training in Ukraine.
The project contributes to SDG 4 and SDG 8 by supporting high-quality education and thus facilitates economic growth. In future, renovated vocational schools with modern equipment will be available to young people in Ukraine. They will learn the basic concepts of their future profession using machines that meet current standards. This ensures that the vocational students are well-prepared for the tasks they will perform in their future workplaces.