Tip: Activate javascript to be able to use all functions of our website
News from 2023-08-16 / KfW Development Bank
Minister Schulze visits FC projects in the Sahel
Development Minister Svenja Schulze visited Mauritania from 14-15 August. Since the beginning of July 2023, she has held the presidency of the Sahel Alliance, the central supporter association for the Sahel region with 18 members. Schulze's presidency sends a signal that the German government remains committed to the Sahel and is expanding its development policy engagement.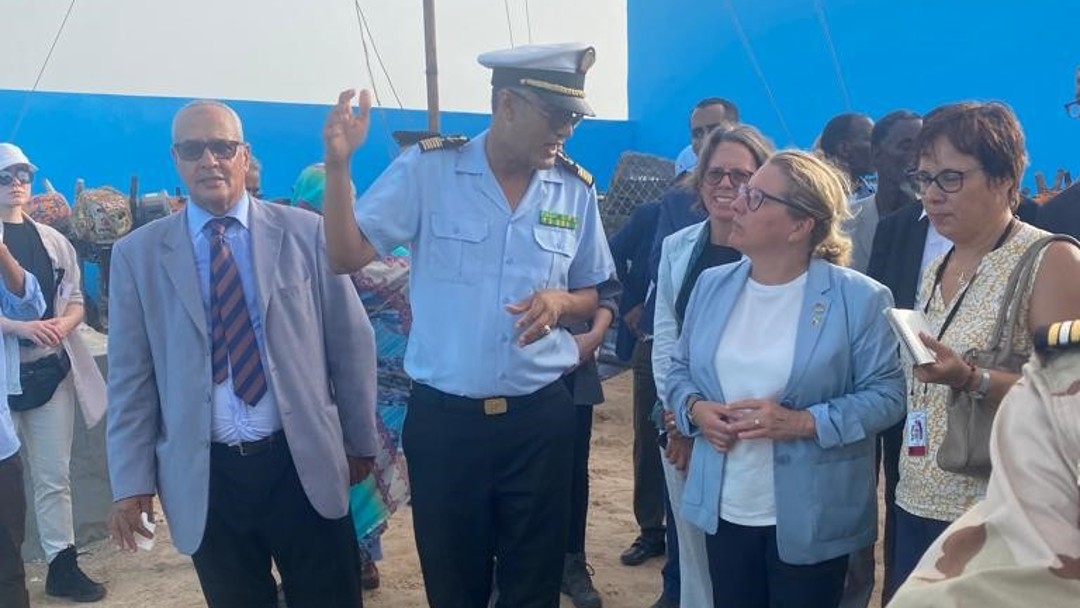 Federal Minister Svenja Schulze visits the FC fisheries project.
The Sahel lies on the southern edge of the Sahara. Specifically, this involves internationally coordinated support for the states of Mauritania, Mali, Burkina Faso, Niger and Chad. Following a military coup in Niger at the end of July, the Federal Ministry for Economic Cooperation and Development (BMZ) has temporarily suspended bilateral cooperation with the country. In the other countries, the German government is working for more jobs, better training opportunities, better basic services and stronger social safety nets.
Minister Schulze said: "The latest developments in the Sahel have once again made it clear that solutions are needed that address the root causes of the problems in the region: Prospects for young people through more employment, social security that helps to maintain social cohesion and prevent broad sections of the population from sliding further into poverty. In this way, more stable societies can be created - and at the same time the breeding ground for the increasing violence of terrorist groups can be removed. Germany is not involved in the Sahel because it would be easy. We are so committed precisely because the situation is difficult and fragile."
Mauritania - sustainable fishing and vocational training
In Mauritania, German development cooperation is engaged in the thematic fields of "sustainable economic development", "employment promotion" and "protection of our natural resources". Therefore, in addition to talks with members of the government and representatives of civil society, the minister's programme also included project visits in these sectors.
The first of these was a project entitled "Sustainable Fisheries". On behalf of the BMZ, KfW Development Bank has been promoting the protection of marine and coastal biodiversity and the establishment of sustainable artisanal and industrial fishing systems as well as state fisheries control on the Atlantic Ocean. KfW also finances the construction, rehabilitation and equipping of educational institutions with labour market-oriented training programmes. To this end, the delegation visited the Ryad vocational school in the capital Nouakchott and was accompanied by the Minister of Employment.
Mauritania is a country with a very high proportion of young population: almost 60% of the population is younger than 25 years - these young people need jobs. Therefore, it is important to train according to demand and in cooperation with the business community, i.e. in sectors that will boom in the future.
For more information, see: Focus on Africa