Tip: Activate javascript to be able to use all functions of our website
News from 2023-01-30 / KfW Development Bank
What role can digital technologies play to enhance the effectiveness, transparency and inclusiveness of humanitarian assistance and international development cooperation?
Virtual Conference on Remote Management, Monitoring & Verification (RMMV) on 8th and 9th February 2023
During the recent multiple crises such as the pandemic, wars and climate-change-induced natural disasters, the use of Remote Management, Monitoring & Verification has increased dramatically. Many organizations have used these events to start or accelerate their own digital transformation.
Within the context of the [digital.global]-network launched on 1st December 2023, the German Federal Ministry for Economic Cooperation and Development (BMZ) and KfW, in cooperation with GIZ, are organizing a two-day virtual high-level and practitioners exchange with partners, donors, development banks, UN, NGOs and tech companies titled "Leveraging Remote Management, Monitoring, and Verification (RMMV) for improving resilience and impact in times of crises".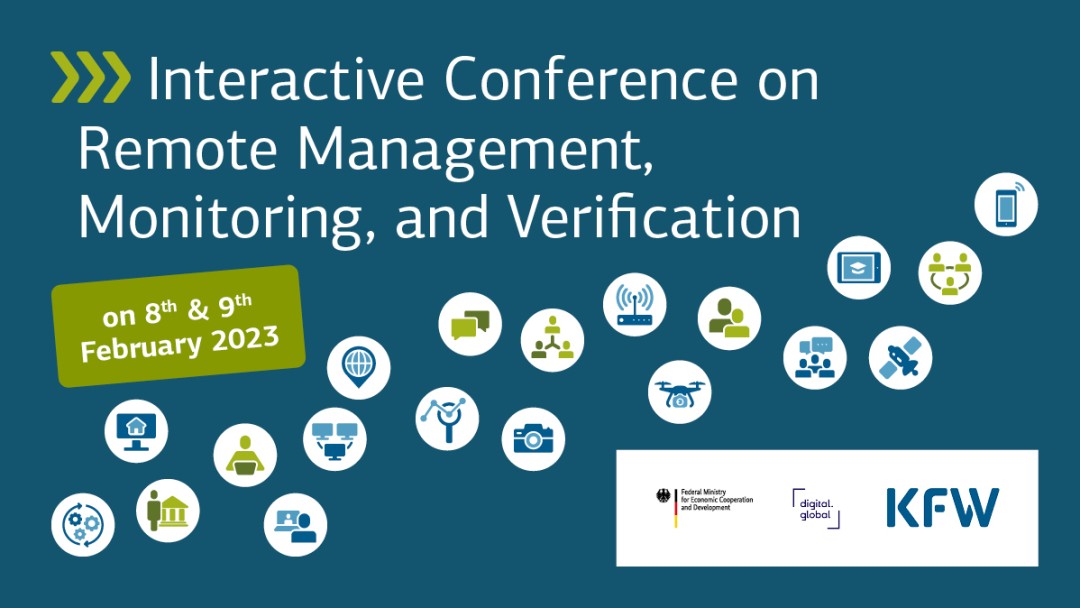 About 90 international speakers and moderators from 47 institutions will discuss their experiences, lessons learned, current trends, opportunities for cooperation and recommendations for the future with the participants on 8th and 9th February 2023. The high-ranking keynote speakers include Robert Opp (UNDP Chief Digital Officer), Prof. Dave Snowden (founder of the Cynefin research and development centre) and Martin Wimmer (Chief Digital Officer of the BMZ). The focus will be on three main topics:
Remote project progress and infrastructure quality monitoring
Involving target groups and project-affected people remotely
Remote outcome, impact and do-no-harm monitoring
These three blocks are grouped around this year's four main themes:
RMMV in the context of crisis
Using RMMV to improve citizen-centred accountability
RMMV for delivery- and supply chain-tracing
RMMV for better humanitarian and international development coordination
Early registration is highly encouraged as participation will be limited. The conference will be held entirely virtually and in English language.