Tip: Activate javascript to be able to use all functions of our website
News from 2022-12-05 / KfW Development Bank
Starting signal for the digital.global network
On 1 December, Federal Minister for Economic Cooperation and Development Svenja Schulze invited over two dozen high-ranking international digital and ICT experts to Berlin to shape the framework conditions for a social-ecological-feminist digital transformation. At the same time, the event laid the foundation for the development policy network [digital.global] and thus for an interdisciplinary exchange on the various levels of digital transformation. Around 240 selected representatives from the digital scene, ICT industry, science, civil society and politics accompanied the kick-off event on site in the audience. In addition, the event was publicly broadcast as a live stream via the digital hub of the bmz-digital.global network.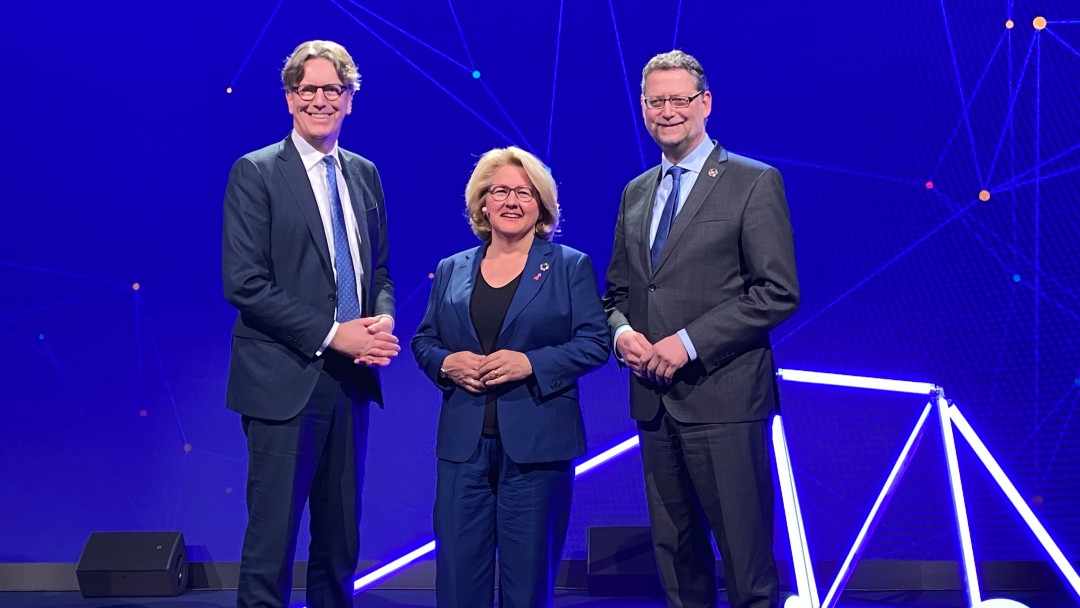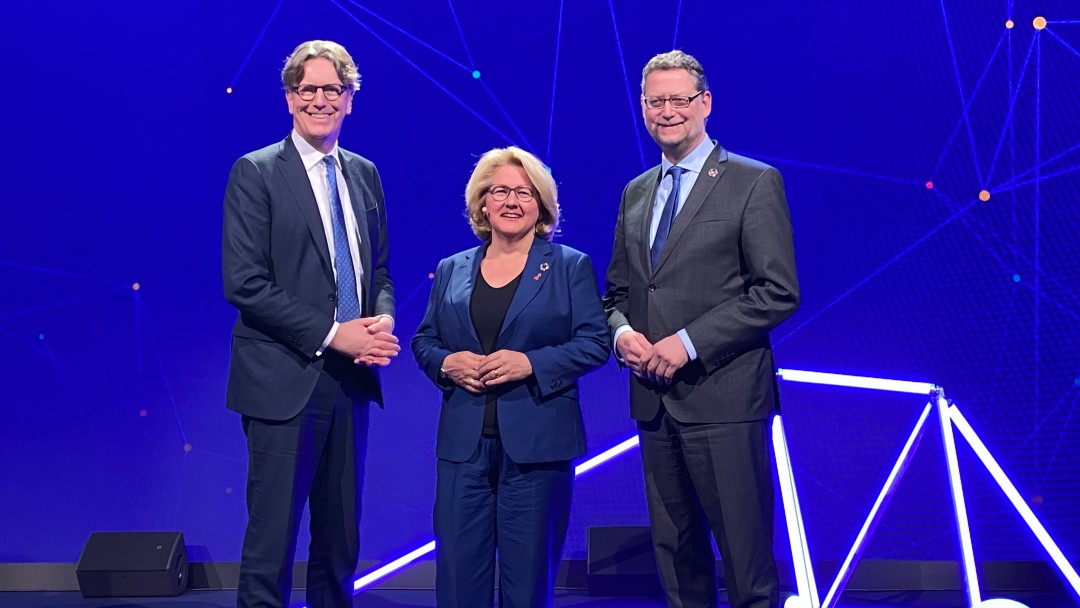 From left to right: Stefan Wintels, CEO of KfW, German Development Minister Svenja Schulze, Thorsten Schäfer-Gümbel, CEO of GIZ.
"Digitalisation is an important ally of development policy. Because digital solutions make development leaps possible, which we urgently need to achieve our global sustainable development goals. Germany needs an international digital strategy with a broad view - and development policy must play a leading role in this," said the Minister in her opening speech. She also appealed that transformation must be jointly supported and shaped by all people in society and that a mutual learning process is essential here.
In the following keynote speech, the newly elected Director of the International Telecommunication Union (ITU), Doreen Bogdan-Martin, addressed the female role in the digitalisation process and called for "vocal leadership". Minister Schulze and Bogdan-Martin then sealed the new partnership between the EQUALS network, which aims to create an equal role for women and girls in the technological revolution, and atingi, a learning platform supported by BMZ.
In his speech, Stefan Wintels, CEO of KfW, emphasised that KfW Development Bank, whose digital portfolio amounts to over EUR 8 billion and 274 projects worldwide, is also an important player in the transformation process and takes this role very seriously: "If we as KfW want to develop transformation and strengthen resilience, we have to transform ourselves." In addition, he says, it is essential to successfully scale projects and mobilise private capital. Wintels sees KfW well positioned in this regard, as it has access to both investors and the digital economy. He called the digital.global network a great opportunity to intensify cooperation with international partners in order to promote innovation and announced that it would focus on the further expansion of digital public infrastructure and the development of digital public goods.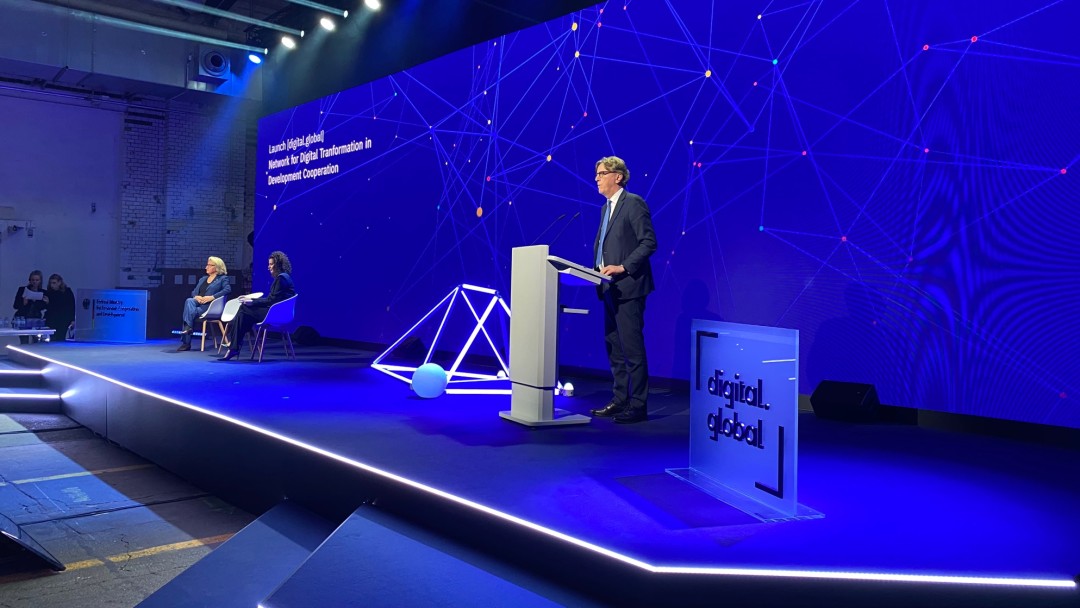 CEO of KfW, Stefan Wintels, at his speech on digital transformation.
In the course of the event, the geopolitical, ecological and digital turning point was presented and discussed in three moderated thematic blocks. Among the speakers and panellists were Lacina Koné, Director General and CEO of SmartAfrica, and the political economist, transformation researcher and sustainability scientist Prof. Dr. Maja Göpel from Leuphana University. Other interesting discussion topics were provided via video transmission by the Ukrainian Deputy Prime Minister and Minister for Digital Transformation, Mykhailo Fedorov, and the President of the World Bank Group, David Malpass, among others.
Following the public part of the event and the launch of the network, participants had the opportunity to engage in dialogue activities with facilitated open spaces on the four leadership priorities Covid-19, Just Transition, Feminist Development Policy, as well as Hunger and Poverty, and to engage in conversation with the speakers and other participants. With the diverse perspectives of the contributors, the digital.global network will be able to pave new ways for digital transformation in development cooperation.