Tip: Activate javascript to be able to use all functions of our website
News from 2022-11-08 / KfW Development Bank
Supporting South Africa's energy transition
KfW promotes socially responsible restructuring of the sector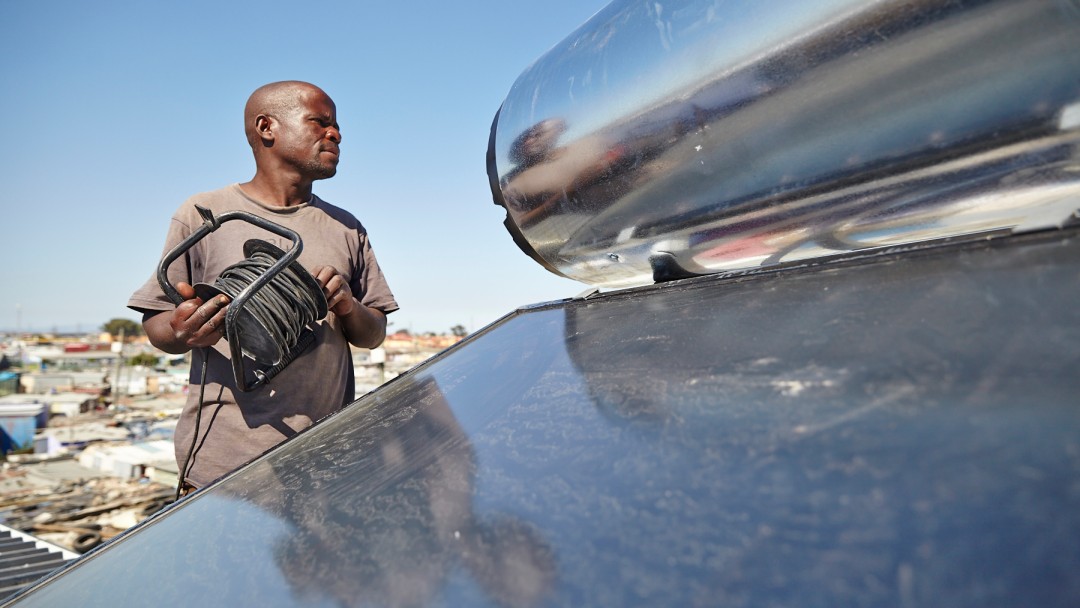 South Africa's green power generation capacity and grid to be expanded.
Phasing out coal: KfW provides a loan of EUR 300 million for a socially responsible and ecologically sustainable transformation of the energy sector in South Africa.
At the United Nations Climate Change Conference COP27 in Egypt, German Chancellor Olaf Scholz, the President of the Republic of South Africa, Cyril Ramaphosa, and French President Emmanuel Macron, together with other representatives of the G7 and the EU, pledged their support for the investment plan of the world's first Just Energy Transition Partnership (JET-P) on 7 November.
The investment plan forms the basis for Germany's contribution of up to USD 1 billion to the Just Energy Transition Partnership (JET-P), which South Africa agreed with Germany, three other countries and the EU at the UN Climate Change Conference in Glasgow last year. Under the JET-P, South Africa has been pledged up to USD 8.5 billion over the next 3-5 years by partner countries to support the coal phase-out.
The South African government's goal is to significantly reduce greenhouse gas emissions and phase out coal production. KfW is supporting South Africa's energy transition on behalf of the German government with a promotional loan of up to EUR 300 million. The French development bank Agence Française de Développement (AFD) has also issued a loan of EUR 300 million.
South Africa has been heavily dependent on coal-fired power generation. 80% of electricity is generated using coal. The low electricity prices attracted energy-intensive companies. But what once appeared to be an advantage is now proving to be a trap. Coal-fired power generation produces high carbon dioxide emissions, and an international comparison shows just how high: South Africa is among the 13 countries with the highest levels worldwide. Measured by its economic power, it even ranks fourth. In the meantime, a rethink has begun. The South African government is aiming for a complete phase-out of coal use. Renewable energies are to replace it.
Preserving jobs in the coalfields as well
The goal is to reduce the share of fossil fuels in the South African electricity mix to a maximum of 48% by 2030, while increasing the share of renewable energies to at least 38%. This will require major efforts. Both green power generation capacity and the grid need to be expanded. This requires huge investments. But that is not the end of the story. The switch initially threatens many jobs. So far, 90,000 South Africans work in the coal industry. The unemployment rate is very high at just under 35%, and even higher in the coal regions. In order to make the energy transition in South Africa socially responsible, investments are needed in vocational training and alternative sectors such as green hydrogen or electric vehicles. KfW's promotional loan contributes to addressing these challenges.