Tip: Activate javascript to be able to use all functions of our website
Independence and self-esteem for women in Yemen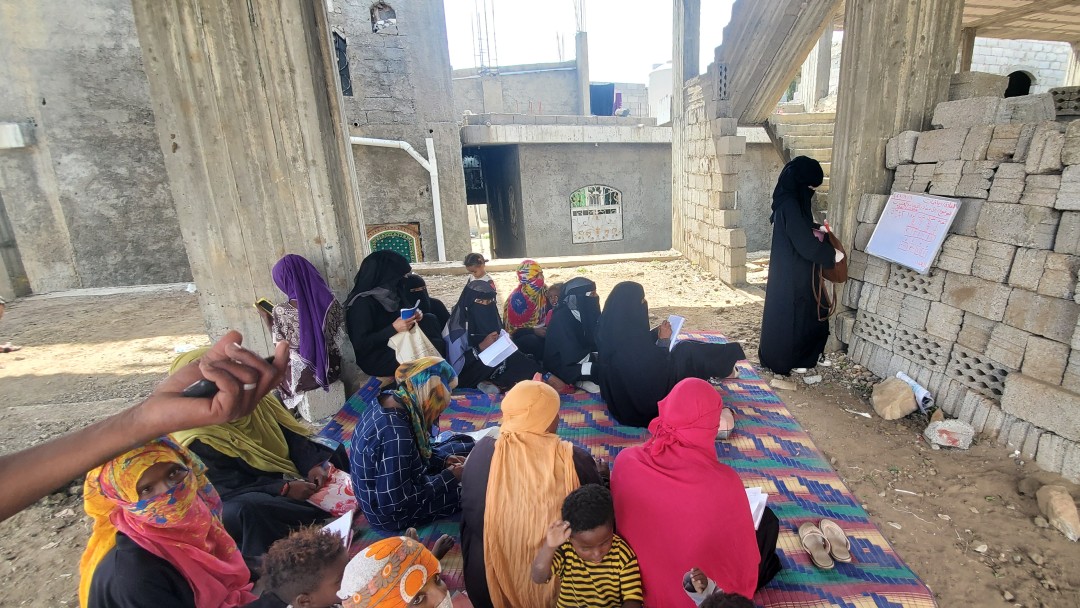 Literacy programmes open up prospects
Yemen has been in civil war since 2014. The Iran-backed Huthi rebels are engaged in an armed conflict with the government of President Abed Rabbo Mansur Hadi. The latter is supported by a military alliance led by Saudi Arabia. This situation makes normal everyday life in the country almost impossible. The United Nations classifies the situation in Yemen as the worst humanitarian crisis in the world. Around 70 percent of the population is dependent on aid supplies or protection. In this barely functioning state, non-governmental organisations play an important role in providing services and basic supplies. On behalf of the German Federal Government, KfW Development Bank is therefore not working with state actors in Yemen, but with NGOs, UN institutions and the Social Fund for Development (SFD). Nationwide cooperation with SFD has been established in the sectors of education, water supply and sanitation, rural road construction, microfinance and agriculture.
Women suffer disproportionately from the consequences of the conflict: the successes achieved before 2014 in terms of gender equality have been squandered. Due to the high illiteracy rate, women have difficulty accessing, employing and participating in society. Domestic violence is widespread and women often do not know how to protect themselves and their children from violence. This has led to Yemen ranking second to last out of 156 countries in the World Economic Forum's Global Gender Gap Index 2021, compared to 115th in 2006. Even before the war, illiteracy rate of women was 70%, far higher than that of their male counterparts (55%). Illiteracy also means for women: they cannot understand package inserts for their children's medicines, purchase contracts for land, their pay slips and employment contracts and consequently they are "ripped off" every now and then. Especially when women belong to the group of the Muhamasheen (literally: the excluded), a marginalised Yemeni community of presumably African descent.
The German government is one of the few donors to support adult literacy, the construction of schools and the recruitment of teachers - in cooperation with SFD. Within the framework of the programme "Incentives for Volunteer Teachers", 19 assistant teachers are engaged in Taiz province and not only teach the 400 schoolgirls reading, writing and arithmetic - they are also trained on nutrition, education and family planning. Another important topic is hygiene - how can toilets and shelters be kept clean to contain diseases like cholera, COVID-19 and diarrhoea? The courses take place in decentralised learning centres so that the way for the participants is not so long and dangerous. After attending the literacy course, the students can enrol for further training to acquire skills.
Two of the women who learned to read and write in the project tell their story here:
"We dark-skinned Yemeni women are discriminated against by most people," says Inas Ali (35 years old), a divorced woman from the Taiz region. "Because I am a refugee and belong to the Muhamasheen, my employer in the small company where I work as a cleaner only paid me a monthly salary of 80,000 YR (130 USD), while my actual salary is 200 USD according to the contract, which I could not read."
Before participating in the project, Inas and her classmates could neither read nor write. Amani, a volunteer teacher, successfully convinced Inas to participate in the adult literacy programme supported by KfW. Only then did Inas understand that if she could read, she would have been able to see the amount of the salary on her simple contract. Newly acquired knowledge in the field of hygiene has also changed the women's situation. Inas reports that her family, along with three other displaced families, shared a latrine. The connection between the wet and dirty latrine and frequent diarrhoeal diseases was not clear to them until they were educated in class.
Aisha (65 years old) encourages her three adult daughters to attend the courses - and she herself also participates. "I have been looking for such a programme for years - so that we can improve our situation and protect ourselves from our closest relatives. I have met women who have received basic education and are now successfully earning their own money. They are now leading a dignified life," says Aisha.
She and her daughters are now consulting with friends on how best to prepare for the upcoming SFD training. The learners can choose from different courses, such as processing incense, making wigs, tailoring, women's hairdressing, making accessories. Through their participation in the project, they become increasingly involved in the communities, gain independence and develop a stronger sense of self. They make decisions and dream of earning a decent income with the help of education - for a life in dignity.