Tip: Activate javascript to be able to use all functions of our website

Ocean's 21 – Solutions for a Sustainable Marine Future
Development Finance Forum 2017
The Development Finance Forum is the annual flagship event of KfW Development Bank. The Forum each year deals with a current and pressing issue of international development cooperation: This time it was about the world´s oceans and why their protection is so important for the future of human kind. The event took place on 21st and 22nd of November in Frankfurt and followed the first UN conference on oceans in New York in June and the climate conference in Bonn in November. This Development Finance Forum was entitled "Oceans 21 – Solutions for a Sustainable Marine Future". Close to 150 experts from around the world gathered at KfW to discuss ways to protect the world´s oceans and obstacles that might be in the way. The focal points of the conference next to marine protection were marine economy and marine litter.
Portrait of a Threadfin Anthias, normally found in large shoals hovering over coral boulders: picture taken at Kofiau Island, Raja Ampat, Indonesia.
Artisanal fishers from all over the Coral Triangle complain about diminishing catches. Marine Protected Areas have become an important management tool for fishermen: picture taken near Tun Sakaran Marine Park, Sabah Malaysia.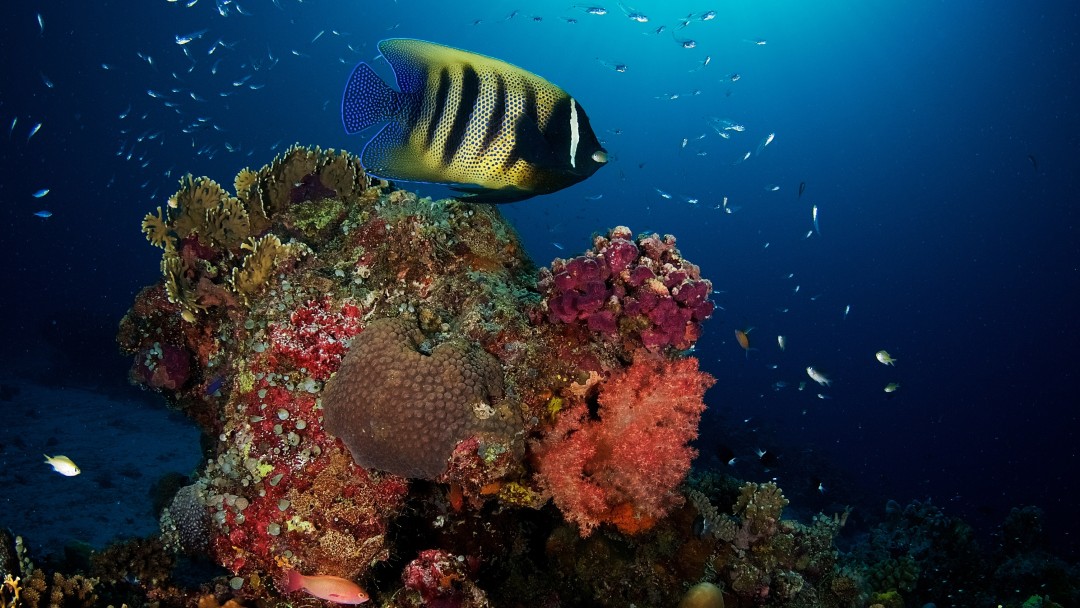 Six-banded Angelfish, one of the larger colourful tropical reef fish: picture taken at Tubbataha Natural Reefs Park, Palawan, Philippines.
Garbage with a bad attitude, a very telling example of plastic debris in the diver's path: picture taken at Tubbataha Natural Reefs Park, Palawan, Philippines.
Coastlines suffocating in plastic waste have become a serious health risk and threat to fishery and tourism in Southeast Asia: picture taken in Semporna, Sabah, Malaysia.
Caging for fish trade, filled with juvenile fish from the wild: picture taken at Maliangin Island, Sabah, Malaysia.