Tip: Activate javascript to be able to use all functions of our website
"In the fight against climate change India is one of our most important partners"
The subcontinent wants to increase the share of renewable energies to 40 percent by 2040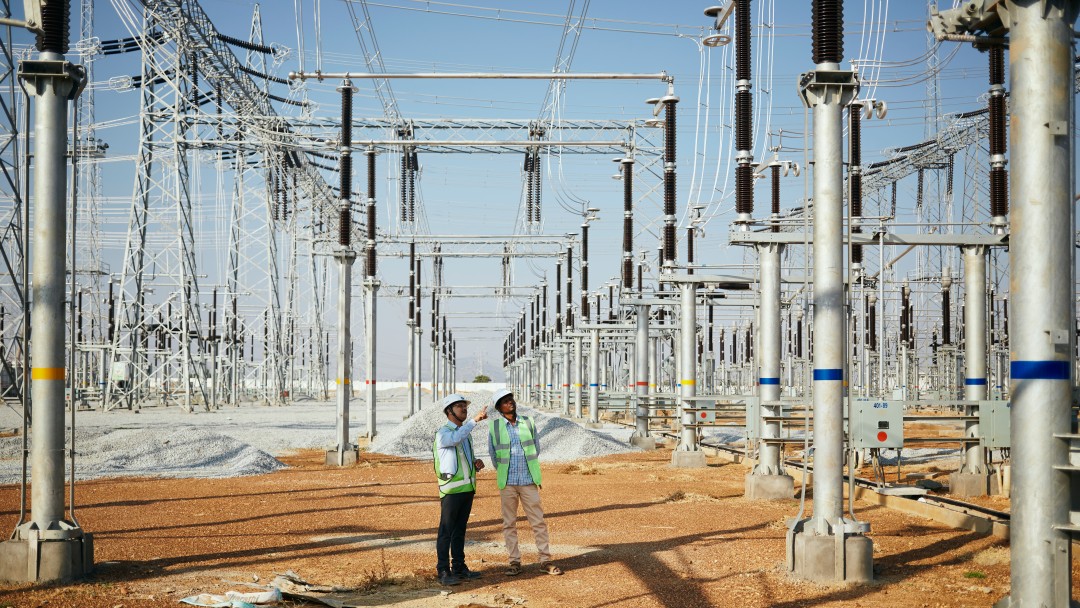 KfW Development Bank promotes "green corridors", which transport green electricity in Indian industrial and population centres.
A sixth of all people on earth live in India. The sheer size of this country alone, which today has around 1.3 billion inhabitants and will have an estimated 1.7 billion in 2050, makes it a decisive factor in the development of the climate on our planet. "We need India to solve global environmental problems," says German Environment Minister Svenja Schulze, "India is one of our most important partners in the fight against climate change".
India already consumes the third most electricity of all countries and emits the third largest amount of carbon dioxide, behind China and the USA respectively. Coal-fired power plants alone still produce almost two thirds of the electricity. However, the share of renewable energies is expected to rise to 40 percent by 2040.
Yet the country is only at the beginning of its journey towards becoming a developed industrial state. By way of comparison: Germany's per capita CO2 emissions are six times higher than those in India. But India is growing constantly. Over the past two decades, the gross national product has increased by an average of 7.4 percent per year. The number of urban centres with more than one million inhabitants has risen to 71. With urbanisation, the demand for public transport and housing is growing. Capacities are expected to double by 2030 compared to 2018. Although only 30 percent of the population currently lives in cities, they are already responsible for much higher polluting emissions than the rural population.
The Indian government has committed itself to meeting the climate protection targets set out in the Paris Agreement. A seemingly marginal aspect shows the enormous efforts the country will have to make. Growing prosperity on the hot subcontinent also means being able to afford cooling. In 2016, 27 million air conditioners were in operation in India. The International Energy Agency predicts that it will be 1.1 billion by 2050. The temperature control of the apartments alone would then require twice as much electricity per year as Germany consumed in 2018, measured against today's consumption figures.
India must shape economic growth ecologically
India can only achieve its climate protection goals if it organises economic growth ecologically. KfW supports the country in this endeavour. "It is in all our interests that we accompany India in its growth process with sustainable financing in climate protection and infrastructure," says KfW Executive Board Member Dr Joachim Nagel. That is why KfW has increased its financial support for ecological projects in India in recent years. In the past six years alone, credits of around EUR 5 billion have been invested in projects to build energy-efficient houses, produce green electricity, expand efficient electricity grids and develop sustainable public transport systems.
Maharashtra Metro in Nagpur.
Financial commitments amounting to EUR 1.2 billion are planned by the end of 2019. KfW is providing EUR 200 million, for example, to support the state of Tamil Nadu in the climate-friendly modernisation of its public transport system. Among other purposes, the funds will be used to purchase 500 electric buses in order to replace old diesel vehicles. Loans of EUR 250 million and a subsidy of EUR 10 million will be used to build and purchase apartments that are designed according to ecological criteria and consume up to 40 percent less energy than conventional ones. With a loan of half a billion euros, KfW made it possible to build the metro in the megacity of Nagpur. The first sections started to operate in spring 2019. Two thirds of the electricity for the trains of the railway system, which was designed under the guidelines of climate-friendly energy use and sustainable urban development, comes from solar systems.
Ecological solutions for public transport in India's cities
"Green urban mobility" is the name of the new priority programme in which KfW will participate with EUR 1 billion until 2023. It was agreed at the Indo-German government consultations in November 2019. Among other things, ecological solutions for local public transport in cities will be promoted. The vast majority of people there are still travelling on motorised two-wheelers and in cars. This private transport generates high levels of pollutant emissions in conurbations.
"Green urban mobility" follows the "green corridors". Under this title, KfW provided loans totalling EUR 1 billion to promote the expansion of efficient power lines and the connection of wind and solar power plants to the overland grid.