Tip: Activate javascript to be able to use all functions of our website
"We are tackling the problems and taking action"
Dr Joachim Nagel, Member of the KfW Executive Board, on climate change mitigation as a major global effort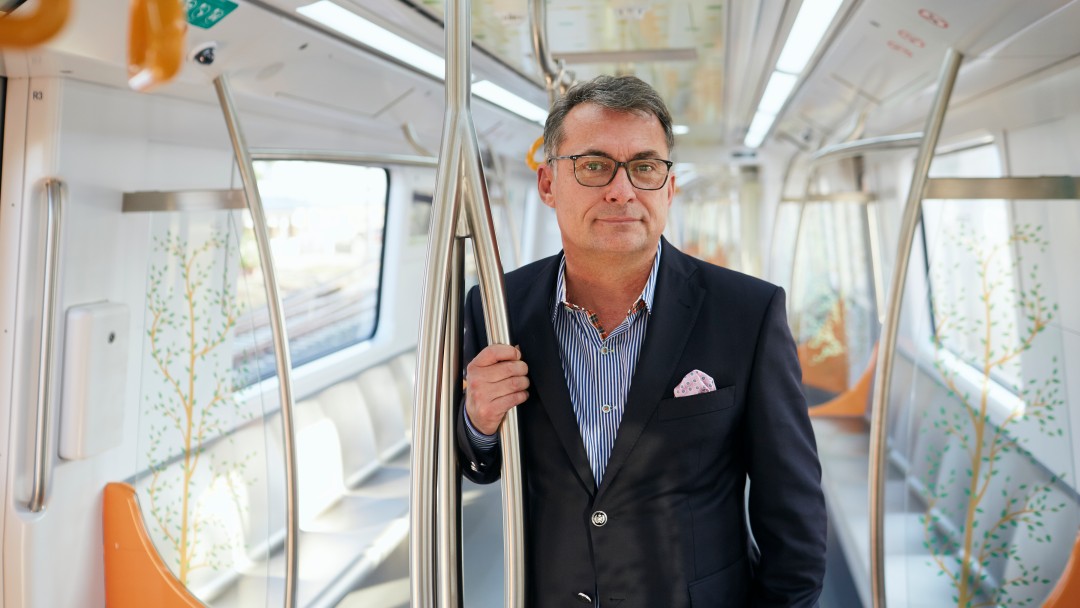 Dr Joachim Nagel on a train of a Maharashtra Metro test track in Nagpur.
Many young people in particular are demanding greater climate action today; they do not think the measures taken against global warming to date have been adequate. What would you say to them? Where do we stand four years after the passage of the Paris Agreement?
Dr Joachim Nagel: The international climate agreement is still intact, despite scepticism in some capital cities, particularly in Washington. What's more: we are seeing a growing commitment to climate change mitigation in all areas of the world, for example in countries like Costa Rica, Colombia, Morocco or Ethiopia, all countries that have set ambitious climate goals. The issue is currently experiencing welcome momentum. Still, we need to accelerate our efforts considerably. We ultimately need to sustainably change the global economy. We cannot and must not leave the brunt of climate change mitigation to the next generation.
Does this acceleration also apply to KfW?
Definitely. We will further expand our commitment domestically and abroad.
What have you done up to this point? Judging by the problem, apparently not enough...
When you put it that way, you might be right. But we have been strongly promoting climate change mitigation and environmental protection for years, and are one of the largest financiers of climate measures in the world. This is even true if you compare us to large multilateral organisations like the World Bank. KfW has invested a total of about EUR 155 billion in environmental protection and climate change mitigation as well as adjustment to climate change over the past five years; EUR 23 billion of that is from KfW Development Bank. We are expanding the use of renewable energy sources all over the world. In Germany we are financing the energy turnaround. That is a good deal for a national promotional bank.
In what ways do you want to expand your commitment?
We want to provide even more funds for climate-related issues. But it is not just a question of higher amounts, although we also need those. At the same time we need intelligent approaches and new ideas for how to build a green economy. We have often proven throughout our 70-year history that KfW can be innovative: Whether dealing with efficiency standards, microfinancing, climate risk insurance or green bonds – we have always had good and innovative ideas, often taking a pioneering role. We will keep doing that. We are also working towards making KfW a model of a sustainability bank for the future.
That sounds good, but what exactly does it mean?
That we are facing a real challenge: we are aligning all of our promotional business with the agenda of the Paris Agreement and the UN Sustainable Development Goals (SDGs). For this, we are evaluating our projects in sustainability terms. We also want to disclose the risks that climate change poses for us, for our promotional business, and for our customers.
What steps need to be taken in order to achieve this?
As one of the very first promotional banks, we joined an international initiative called TCFD – the Task Force on Climate-related Financial Disclosures – in 2018. And at KfW Development Bank level, we are going to systematically record the greenhouse gas effects our financings have – both on the carbon footprint and the amount of CO2 saved. Using an SDG mapping approach we are currently setting up, we will ultimately be able to specify our contributions to the respective SDGs. In short, we too are currently experiencing a phase of radical change as a bank.
One major problem is the transport sector, where climate-friendly solutions have only been achieved in part so far. Will KfW promote the transport turnaround as ambitiously as it does the energy turnaround?
That is our plan. Sustainable mobility is one of our major fields of action for the future, because the transport sector is undergoing fundamental changes, too - especially in developing countries. Even if it's just a small contribution: my new company car is an electric car.