Tip: Activate javascript to be able to use all functions of our website
Despite the corona crisis: Benin is pushing ahead with the expansion of its water supply at a rapid pace
News from 2020-05-26
Benin, where - as of 13 May - according to the Beninese government there are 327 officially confirmed sars-CoV-2 infections, is taking a special path compared with neighbouring countries. While Nigeria, for example, has long since imposed a curfew, the government wants to avoid it. A "shutdown" along European lines would have dramatic consequences for the population. Dr Günter Roos has been office director for KfW in Cotonou for almost two years and continues to work on site. He describes everyday project life - the construction work in a water supply project - and a project visit under corona conditions.
In February the construction work of the FC project to promote water supply in the suburban areas of Greater Cotonou started. Staff members of the project-executing agency SONEB (Société Nationale des Eaux du Bénin), the responsible engineering office, the construction company and the KfW office in Cotonou got an idea of the current implementation status in early May.
The warehouses and containers of the construction company are filled with plenty of material. Deliveries from overseas arrived in the port of Cotonou just in time before the outbreak of the corona crisis. The PVC pipes produced in Ghana were also delivered before the border closures. "We were lucky", says the SONEB employee responsible for the project.
BePipe fittings - arrived in time from overseas.
According to official sources, the first case of corona occurred in Benin on 16 March. The Beninese government reacted quickly and with caution. Three days later, it decided that all travelers arriving in Benin by air - even without symptoms - should be admitted to a hotel for a fourteen-day quarantine. Two weeks later, a cordon sanitaire was established around the communities most at risk from the pandemic, to protect the rest of the country. It was lifted on 11 May. Since April 8th, only three weeks after the first case occurred, the obligation to wear protective masks has been in force, initially only within the cordon sanitaire. Now it applies nationwide.
Administration, businesses, shops, restaurants are still open
The government expressly refrains from taking more drastic measures for economic and social reasons, as these would cause more damage in poor Benin than they would prevent. This seems reasonable: many people in the informal sector earn today what they need to live tomorrow. A "shutdown" along European lines would have dramatic consequences. In addition, the population structure differs significantly from that in Europe: Average life expectancy in Benin is 59 years. Only 7% of the population is older than 60, the average age being 22. So public administration, businesses, shops, and restaurants remain open. Bars, discos, sports clubs and other places of entertainment have been closed. Large-scale awareness campaigns inform the population about prevention measures.
Construction workers while digging.
Workers on the construction site are also wearing protective masks – very uncomfortable at the current weather conditions. They also wear luminous vests and helmets. They have been digging trenches 1 m deep and 40 cm wide through the red clay at an average temperature of 30 degrees and 80% humidity for three months. These teams are closely followed by other construction teams, who lay grey PVC pipes, connect them with pressure pipe fittings, fill in the trenches again, roll out blue route warning tapes and compact the earth again. The visit of the construction site takes 20 minutes. The construction teams passed the visitors in no time at all and installed over 100 m of pipe during this short time. Parallel to this, smaller work units carry out initial pressure tests. Are the pipe connections tight? Can they withstand the pressure? 110 km of over 300 km of planned pipelines have already been laid. Up to now, only two repairs have been necessary.
Once this and further construction work is completed, 250,000 people will have initial or improved access to sustainable drinking water supplies.
Even before the Corona crisis, the Beninese government set itself ambitious goals to provide the entire population with clean drinking water, this year the current water portfolio in Benin will reach EUR 45 million.
Now working water infrastructure is even more urgently needed in order to be able to implement the necessary corona prevention measures such as hand washing, daily cleaning and disinfection in households, public facilities and hospitals. The impressions of the site inspection give cause for optimism. In other projects, too - such as the construction of a sewage sludge plant financed by KfW - work continues with enthusiasm despite the crisis. There is no question of standstill.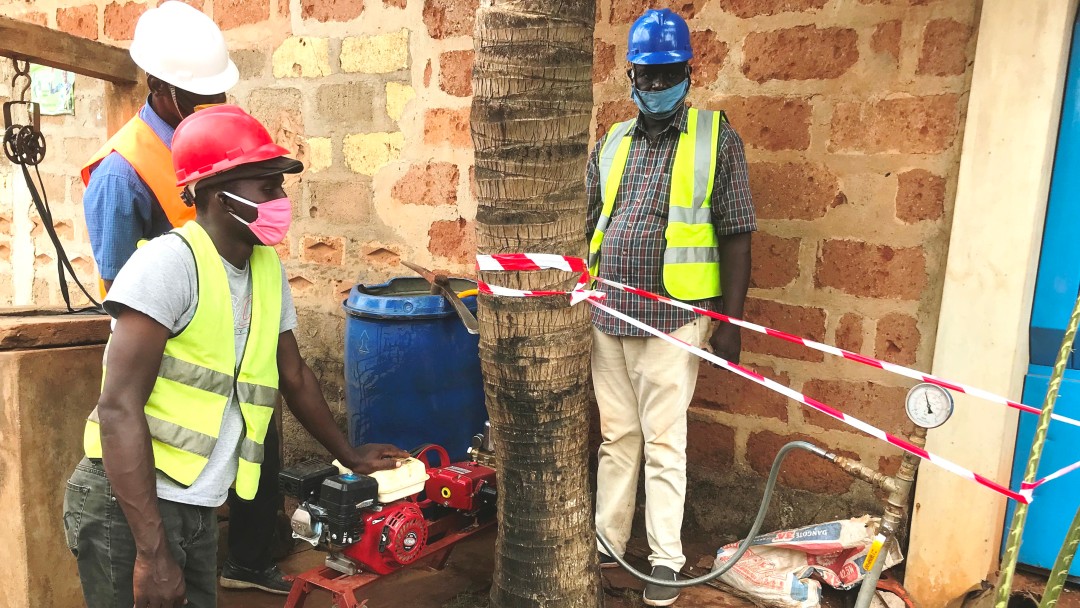 Working with a protective mask - a pressure test is carried out here.