Tip: Activate javascript to be able to use all functions of our website
Rwanda: Green City Kigali - better times will come
News from 2020-07-08
How the people in Rwanda, a country in the Great African Lakes region, are living with the corona pandemic - Alice Kayumba, Office Manager of the KfW Kigali Office, recently reported on this in this series. Together with her colleague Yves Tuyishime she tells us how the situation has developed since then.
On the 4th of May, Rwanda partially lifted the strict lockdown measures that were in place for the two previous months to restrain the spread of the Covid-19 virus. Public institutions, private businesses, manufacturing and construction sectors reopened with essential workers while all other employees continue to work from home, and with strict measures whereby they made it mandatory for the public to wear facemasks, regular hand washing as well as respecting physical distancing. A curfew was set from 9:00pm to 5:00am local time during which movement is prohibited without government permission. Public and private transportation between provinces has been permitted to resume with the exception of Rusizi and Rubavu districts where local clusters of Covid-19 infections were identified.
For our KfW office in Kigali, we encourage staff to continue working from home and have introduced special regulations, including limiting the number of staff allowed in the office at the same time, as well as adequate protection. Colleagues continue to meet at least every Tuesday over a virtual office jour fixe and share updates in order to keep everyone connected and aware of the ongoing projects and activities.
Project activities with partners have also resumed shortly after the ease of the lockdown measures. For example, project coordinator Yves Tuyishime participated in the field visit organised by our partner FONERWA, the Rwandan Green Fund, to introduce the "Green City Kigali project" (PDF, 214 KB, non-accessible) to the new Minister of Environment, Dr Jeanne D'Arc Uwamariya, and the German Ambassador, Dr Thomas Kurz. With this project the Rwandan Government with the financial support of the German Development Cooperation through KfW Development Bank is looking to create a pilot green district in Kigali that combines affordable housing with climate-resilient and green technologies. The site visit was of course conducted while respecting the health measures to fight Covid-19.
"Fortunately, wearing masks and keeping a distance did not impact the site visit as such and the preparation of this innovative pilot project continue as foreseen", Yves Tuysihsime, project coordinator for the Green City Kigali project reports. It is a glimmer of hope that normality will return at some time in the joint project work and also in daily life.
Report on the situation in Rwanda (status May)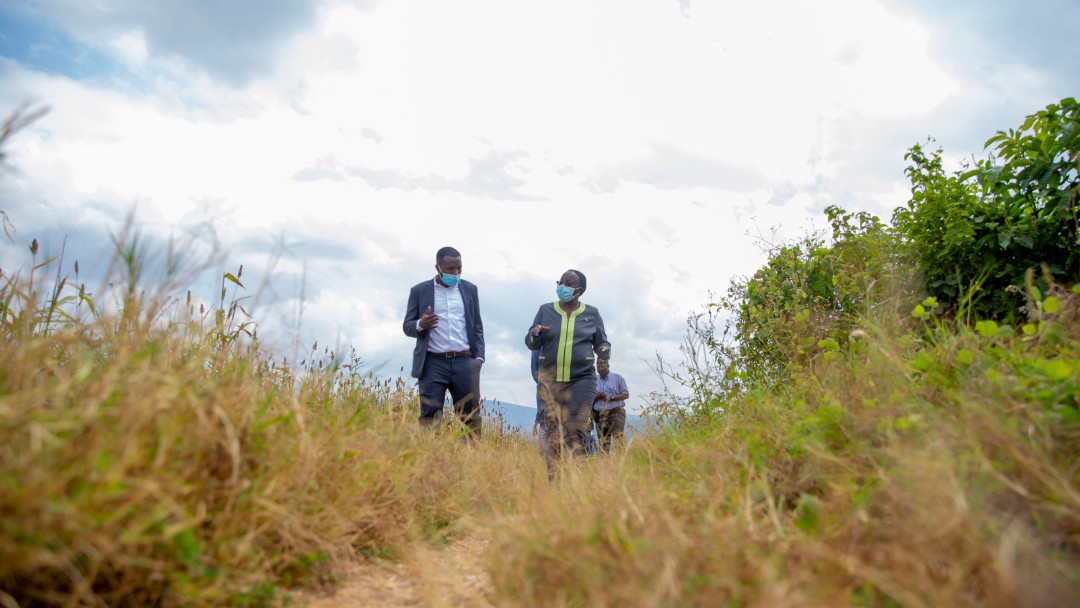 Yves Tuyishime, coordinator of the Green City Kigali project, during the field visit with Minister of the Environment Dr Jeanne D'Arc Uwamariya.