Tip: Activate javascript to be able to use all functions of our website

Freedom again - Corona in Mongolia
KfW Office Director Michael Sumser reports from Ulan-Bator
At the end of September, after three weeks of compulsory quarantine in a hotel in Ulan-Bator, KfW Office Director Michael Sumser is looking forward to a project visit to the countryside: "Fresh air and exercise at last!" He had returned to Mongolia after his Christmas holiday at the end of January - and only got a seat on a special flight back to Germany at the beginning of May. Together with his wife, he then travelled back to Mongolia in early September and can now resume an almost "normal" life after the quarantine. "I have been tested negative four times during the last few weeks - that was really thorough," Sumser sums up. Actually, they should have been in domestic quarantine for another two weeks, but this was abolished two days before. "Perfect timing in retrospect," comments the Sumser. In the hotel they had two rooms, were well looked after by hotel staff - always in protective clothing - and survived the time without the camp fever. Although the two Mongolian colleagues in the KfW office initially wanted to work from their home office when the pandemic measures were intensified, they are now happy about their normal everyday life with social contacts in the shared office.
An IT specialist from the hotel sets up the internet connection.
Mongolia has been pursuing a very strict - and successful - corona policy since the end of January. So far, 314 corona infections (COVID-19) have been officially reported in the country, all cases have been imported and none has been infected in the country. 306 patients have been discharged as recovered - as of 5th October. Officially, nobody has died of COVID-19 so far. What have the Mongolians done better than many other countries? Already at the end of January, a general compulsory mask was introduced - when the numbers in China rose sharply; the border with neighbouring China was closed early on for private traffic; all international regular flights of the national airline MIAT were suspended - and still are, including international rail and road traffic. Schools and universities closed and many Mongolians switched to home office. The strict quarantine rules for tens of thousands of repatriated Mongolians and also foreigners have been in force since mid-March. Many of those infected are repatriated students from Russia, China, South Korea, the USA and Europe - including Berlin. But also numerous officer cadets, who are completing their training in Russia, and truck drivers, who are travelling to Russia in border traffic, have tested positive. In Mongolia, as in the former Soviet republics, to which Mongolia never really belonged, the medical standard is quite low, so that seriously ill people hardly receive adequate treatment, says Sumser.
Although almost all restrictions in the country have now been lifted, many people still wear masks and keep their distance. Looking back, Michael Sumser judges: "In view of the very low number of cases, some things could have been relaxed earlier - above all, the schools could have reopened much earlier and not after the summer holidays at the beginning of September - I actually found that the hardest and most problematic thing."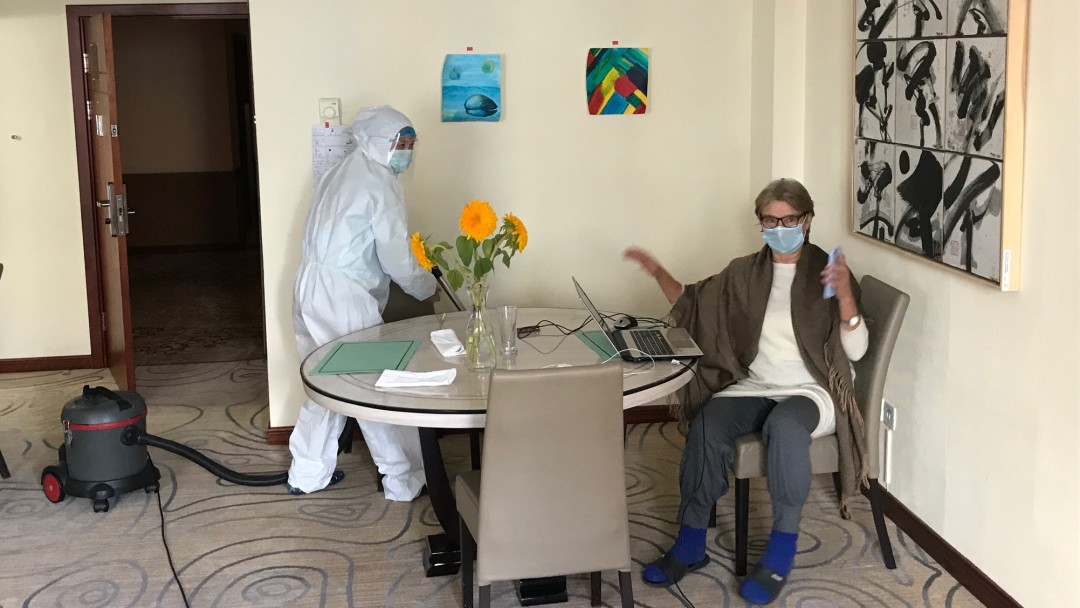 Elke Hellstern in a hotel room during the quarantine... " we somehow felt radioactively contaminated," recalls Michael Sumser.
The "case zero" in Mongolia was confirmed on 10 March: A 57-year-old Frenchman, an employee of a company operating two uranium mines in the southeast, in the country since 2nd March, tested positive. He was supposed to be in quarantine... The disease took a severe course - he spent 50 days in a clinic. "He had achieved a kind of cult status in the country's social media and the country feared for his health," says Michael Sumser. According to the Mongolian view, a hearty diet typical for the country, with horse meat, oatmeal, clarified butter and vitamin-rich sea buckthorn juice, contributed to his recovery. However, he did not want to stay longer in the country.
From a medical point of view, the country's corona policy is successful - for the economy, the restrictions are a bitter blow. Exports of raw materials to neighbouring China - especially copper and coal - had fallen sharply, but have recovered. Truck drivers travelling to China are practically locked in their cabs, the material is unloaded and they immediately drive back to Mongolia. Other exports, especially meat and (cashmere) wool, have continued to slump sharply, and tourism, an important source of foreign exchange, has been completely cut off this year. Many small and medium-sized enterprises are on the brink of collapse, despite tax breaks and low-interest loans. And yet Mongolia is depending on growth and foreign exchange flows right now. "We are glad to be back here and feel very safe in view of the currently strongly rising infection figures in Germany and worldwide", Michael Sumser concludes.
Freedom again: Mongolia is the most sparsely populated country in the world. Only about three million people live in an area that is almost five times as large as Germany.